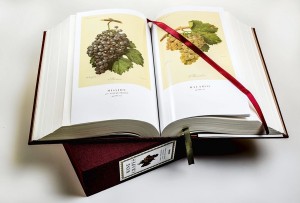 As promised, here is our monthly quiz with Cash and Prizes (well, in this case, prizes)!
This month's winner will receive a copy of Jancis Robinson's beautiful new book, Wine Grapes.
We will be offering an end-of-the-month quiz (with prizes, of course) on the last day of every month.   Quiz questions will cover the educational material posted to Wine, Wit, and Wisdom for the previous month.   This month's quiz has 20 questions that cover the topics and information included in our posts for the month of March. Everything you need to know to pass the quiz is here on our blog!
To refresh your memory, our posts for the month of March were:
Everyone who takes and passes the quiz with 100% of the questions correct by April 7, 2013 (midnight CST) will have their names put into a drawing for a copy of Jancis' beautiful new book!  You can take the quiz over and over again if you like…it's all about the education! The winner will be notified via email on April 8!
Click here for a link to the quiz.
If you have any questions, contact us at: bevspecialist@societyofwineeducators.org .
Good luck!
Update on April 8, 2013:  Congratulations to Douglas Trapasso for winning our March Contest!!  Douglas lives in Chicago and works for the local school system in a department that funds child care agencies throughout the city. As rewarding as he finds his day job, he dreams one day of making a difference  in the world of wine.  Whether by selling, publicizing, serving or even possibly making it, Douglas nurtures his sommelier dreams by participating in tasting groups, and attending as many wine events and classes as he can."