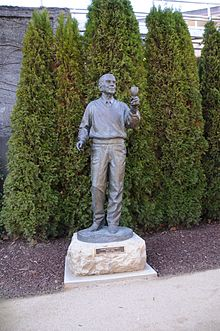 André Tchelistcheff (1901-1994) was so impressive as a winemaker that he earned the lasting nickname "The Maestro."  Born in Moscow, he fled Russia during the Revolution and studied agricultural technology in Czechoslovakia before landing in France, where he studied microbiology, fermentation, and oenology at the Institut Pasteur.
In 1938, Georges de Latour, the owner and founder of Beaulieu Vineyards in Napa Valley, made a tour of France in search of a new winemaker. He was looking for someone with a sophisticated palate and a scientific background.  He found it in André, who was working at the French National Argronomy Institute at the time.  André had already received numerous offers of work from all over the world, yet he accepted the challenge and, in 1938, moved to Napa to become the Vice President and chief winemaker at BV.
Upon his arrival in California, he stopped the over-sulfuring of wines and put an end to the practice of dumping large amounts of ice into the crusher to combat the searing heat of the Napa Valley in fall.  He pioneered the cold fermentation of whites and rosés, the control of malolactic fermentation in red wines, and the use of small barrel aging.  He spent years replacing rusty cast iron piping and pumps that were causing the wines to have unacceptably high levels of metallic concentration.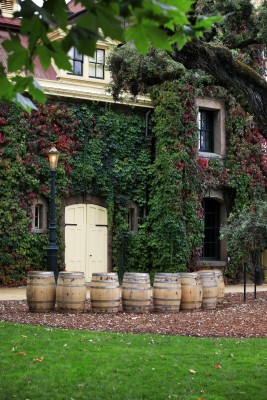 André also pioneered the study of viticulture and terroir in Napa Valley, implementing frost protection in the vineyards and the prevention of grape diseases. He studied the various sub-regions of Napa, identifying areas where world-class Cabernet Sauvignon could be made, and is credited with coming up with the term "Rutherford dust." Most importantly, he created Georges de Latour Private Reserve Cabernet Sauvignon, which quickly became the benchmark style for high-quality Napa Valley Cabernet Sauvignon.
During his time with Beaulieu, Tchelistcheff trained many soon-to-be-famous winemakers, including Mike Grgich and Joe Heitz. He remained vice president of Beaulieu Vineyards until he retired in 1973.  In his "retirement" he consulted with dozens of wineries and winemakers in California, Washington State and Oregon. One of his first clients was Mary Ann Graf at Simi Winery, who is now recognized as the first woman winemaker in America. In full circle style, he consulted once again with Beaulieu Vineyards from 1991 until his death in 1994.
Always a gentleman, André was well-known and much beloved for his for his quick wit, sharp intellect, and European charm.  He was considered a master of the language of wine, and once described a Beaujolais as "a young woman, barefoot, the wind blowing in her hair, ruffling her blouse.  She has the look on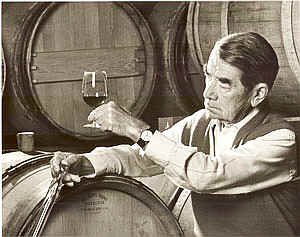 her face of an early peach, a teen-age beauty."
Considered the most influential California winemaker since the repeal of prohibition, his many honors include being inducted into the Culinary Institute of America's Vintner's Hall of Fame in 2007, Wine Spectator's Distinguished Service Award of 1986, and the 1970 Merit Award of the American Society of Enologists.  He was also recognized internationally, being named both a "Chevalier" and an "Officier du Mérite Agricole" by the French government.
However…to all those countless winemakers, grape growers, wineries and wine drinkers from the early days of the California wine industry and beyond, he will always be "The Maestro."