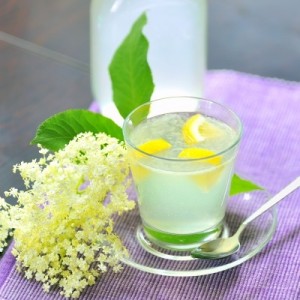 In Victorian England, ladies complaining of night sweats, headaches, or "moodiness" would often be given a glass of Elderflower Cordial.  Elderflowers were readily available, growing wild all over Europe, where they prefer sunny and dry locations, such as the foothills of the French Alps. The flowers are 100% edible, and have been appreciated for both their medicinal and culinary properties since Roman times!
The tradition of creating an Elderflower Cordial by steeping bunches of the freshly picked elderflowers with sugar and water goes back a long way, and is alive and well in modern day Paris.
St. Germain, produced since 1884, is an Elderflower liqueur produced in France.  As the story goes, the delicate elderflowers bloom for just a few short weeks every spring.  At the first sign of the blossoms, a small army of gatherers take to their bicycles and harvest the delicate flowers, transporting them via bicycle down from the hills to the St. Germain facility.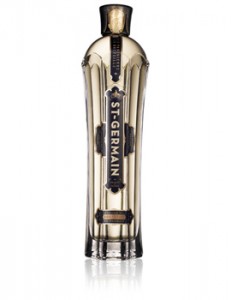 The fresh flowers are immediately set to macerate, as they can lose their freshness in just a few short days. Knowing what we know about liqueurs, we can assume that the delicate flowers are infused in water before being mixed with sugar and spirits; however the producers of St. Germain choose to keep their exact production process a family secret.
In the spirit of journalistic integrity, the home office staff of SWE recently held a tasting of St. Germain. Here is our collective tasting note:
"Aromas of ripe pears, warm honey, luscious lychee, and a faint shadow of floral perfume and dried herbs.  Semi-sweet in taste with no rough edges, save for a playful bite of alcohol. Rich, luscious, and delicious.  Tropical fruit flavors followed by citrus, vanilla, and anise. Vaguely floral, with a lingering lemon peel finish.  Feels like sitting in a lemon grove as the sun sets, while rummaging through a box of old love letters, antique photos, and dried bouquets."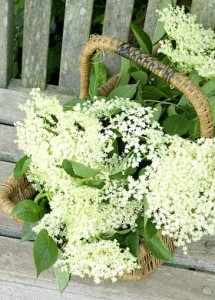 While St. Germain is delicious on its own, it has broad appeal as a flavoring for cocktails as well. Here's a recipe for a "White Cosmopolitan" cocktail, featuring St. Germain. Try it for yourself and see….
White Cosmopolitan
1 oz. Vodka
½ oz. St. Germain
3 Tablespoons White Cranberry Juice
1 Tablespoon fresh Lime Juice
Shake well with ice and strain into a cocktail glass.
In case you are wondering about the namesake of the liqueur, the historical character known as St. Germain is quite interesting.  There are many versions of his story, but one thing that appears to be a fact is that The Comte de Saint Germain, who was born in 1712 and died in 1784, was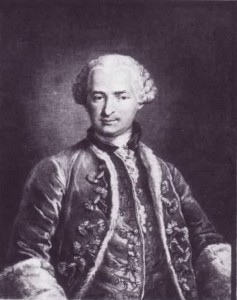 the son of Francis II Rákóczi, the Prince of Transylvania.  The wild stories surrounding St. Germain begin with the fact that Prince Francis openly claimed that his only son had passed away at the age of four; it was later learned that this was done in order to protect his son against persecution from the Hapsburg Dynasty. On his deathbed, the Prince revealed the true identity of his son. 
The Comte de Saint Germain, despite keeping his true royal identity a secret for much of his life, was fabulously wealthy, well educated, and enjoyed a good deal of prominence in the European high society of his time.  He was also, however, known for making up wild stories about himself, most likely to keep people guessing as to his true identity.  At times, he would claim to be 500 years old, to be the re-incarnation of William Shakespeare, to be a prophet, and to own a casket full of jewels. The story about the casket full of jewels may have well been true, as he was known to lavish a bevy of courtly ladies, include Madame Pompadour, with jewels and pearls. 
To this day, stories are told of the legendary abilities of St. Germain as an alchemist, a prophet, an enlightened master, and a sorcerer.
Who knows how much of the stories are true?  History does tell us that he was a close friend of King Louis XV, who kept him so close by his side at the palace in Versailles as to arose the jealously of other members of the royal court.  Let's drink to that!
For more information and lots more recipes…. http://www.stgermain.fr/index2.php