Mendocino County is known for many things, including its often mentioned "official #1 cash crop," the Skunk Train, and the Point Arena Lighthouse. We wine lovers also apprciate its 13 AVAs (two more pending), it sparkling wines, and the Café Beaujolais.
But did you know that Mendocino County is also home to the only "Regional-Identity" wine program in the United States? In an approach somewhat similar to that of many European appellations, any wine producer in Mendocino County can produce the wine, known as "Coro Mendocino," provided they follow the rules.
According to the Coro Mendocino website, "Coro means 'chorus' in Italian and Spanish and is reflective of the collaborative spirit of Mendocino County's winemakers, our distinctive voices heard together in harmony–in accord."
The rules – and there are many – include basing the wine on the Zinfandel grape variety.  Zinfandel must be between 40% and 70% of the blend, and no other grape variety can take a dominant role.  The other grapes in the blend can include the following varieties, as long as they do not overpower the Zinfandel:  Syrah, Petite Sirah, Carignane, Sangiovese, Grenache, Dolcetto, Charbono, Barbera, and Primitivo. There is also a 10% "free play" provision that states that 10% of the blend may be from any vinifera variety.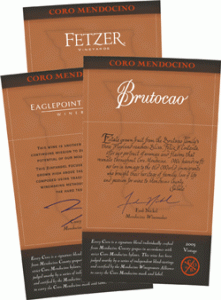 All grapes in the blend must be 100% Mendocino fruit and the wine must be produced at a bonded Mendocino County Winery.  The wine must be aged for one year in barrel, followed by one year in bottle.  Along with a fairly detailed list of production parameters and labeling requirements, the wine must pass the strict review of the Coro Mendocino selection panel and review process.
Coro Mendocino has been produced every year since 2001. The 2010 version, set to be released on June 22, 2013, has a total of ten producers, including Brutocao, Claudia Springs, Fetzer, Golden, Mendocino Vineyards, McFadden, McNab Ridge, Parducci, Philo Ridge, and Ray's Station. Tickets to the release party are almost sold out…but if you hurry, you might be able to grab a pair.  There will be a lovely dinner, and you know the wine will be great!
For more information: