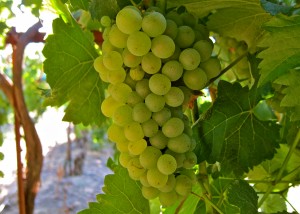 Torrontés, a vinifera cross native to Argentina, is known for producing crisp, fruity, and floral wines redolent of peach, apricot, mandarin orange, honey, melon, and rose.  While Chile, Spain, and a few other countries grow grapes that go by the same name, Torrontés – actually several closely-related varieties –  is grown primarily in Argentina. Along with Malbec, it is considered one of the two "signature varieties" of the country.
A wine labeled "Torrontés" from Argentina may actually be made from three separate but related varieites.  Torrontés Riojano is the most widely grown, the most aromatic, and is considered to produce the highest quality wines.  Torrontés Mendocino, the least aromatic, is also the least widely grown; and Torrontés Sanjuanino takes the middle ground.
All three varieties of Argentine Torrontés are thought to be natural vinifera crossings involving Muscat of Alexandria that occurred on Argentine soil. As for the parentage of each, it gets a little tricky:  The leader of the pack, Torrontés Riojano, is known to be a crossing for Muscat of Alexandria and Criolla Chica (a version of the Mission grape). Torrontés Sanjuanino is a separate crossing of those two same grapes. Torrontés Mendocino is a mystery, thought to be a crossing of Muscat de Alexandria and an unknown variety.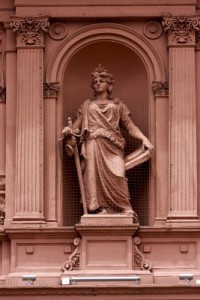 Of the versions of the grape grown in Argentina, Torrontés Riojano is by far the most widely grown and renowned. As the name suggests, it thrives in the La Rioja region, and is also widely planted in Mendoza and the Salta region of northern Argentina.  It seems to do particularly well in the arid, ultra-high altitude vineyards of Salta where the conditions allow the grape to retain a crisp acidity and develop the intense floral aromas the grape is known for.  Torrontés Sanjuanino is planted mainly in the San Juan province, but even there plays second fiddle to Torrontés Riojano.  Torrontés Mendocino, despite being named after Mendoza, is rarely seen there and is mostly found in the southern province of Rio Negro.
For many years it was thought (naturally, I think) that the Torrontés of Argentina was the same grape, known by the same name, grown in Galicia and other regions of Spain. It was thought that the grape was simply brought to the new world along with an influx of immigrants from Galicia into Argentina.  However, recent DNA evidence has shown there is no relation between the two grapes. The Torrontés of Galicia, grown mainly in the DO of Ribeiro, is now known to be identical to the Fernão Pires of Portugal.  It aslo appears that many different grape varieties go by the name "Torrontés" in Spain. To quote Jancis Robinson and her co-authors in Wine Grapes, "Confusion reigns supreme over Torrontés in the Iberian Peninsula."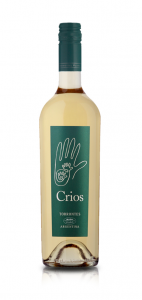 Chile grows a good deal of Torrontés, sometimes under the synonym "Moscatel de Austria."  There are varying reports of its exact provenance, with some publications claiming that most Chilean Torrontés is the Sanjuanino version and others that claim it to be Riojano. We do know for certain that much of the Torrontés grown in Chile ends up distilled into Pisco.  Wines (and grapes) labeled as Torrontés in Chile may also actually be Torontel, a closely related but separate crossing of Muscat of Alexandria and Criolla. Tortontel-by its correct name- is grown in many regions in Chile.
In case you would like to be confused even more, there is also a red grape known as Torrontés, which also goes by the names Tarrantes and Turrundos. Perhaps that is a good topic for another day.  For now, I think I need a glass of Crios de Susana Balbo Torrontés, Cafayate, 2012 (peach, melon, honeysuckle, tropical fruit, and most likely Torrontés Riojano) to calm my brain down.
 References/for more information:
Robinson, Jancis and Hugh Johnson: The World Atlas of Wine, 7th edition. London, 2013: Mitchell Bealey (Octopus Publishing Group).
Robinson, Jancis, Julia Harding and José Vouillamoz: Wine Grapes. New York, 2012: Harper Collins Publishers
http://www.winesofargentina.org/argentina/variedades/malbec-torrontes/torrontes/