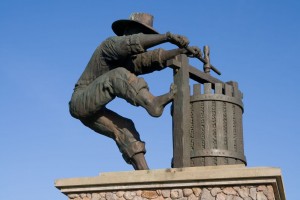 If you've ever been to Napa, you've seen him.  You may have wondered what the 16-foot gentleman wearing the wide-brimmed hat was doing crushing grapes at the top of a lonely hill in the middle of the night, but you can't deny you noticed him.  I'm talking about – of course – "the Grape Crusher," the lovely statue sitting atop Vista Point near Napa Valley Corporate Drive, looming over the vineyards as you buzz past on Highway 29.
Having been an admirer of this particular blending of art and wine, and having wondered just who the Grape Crusher was and what he was doing there; I did a bit of digging. It turns out the Grape Crusher was created by a well-known artist named Gino Miles in 1986. Mr. Miles created the sculpture as a tribute to the dedicated vineyard workers of the valley, in honor of 200 years of grape growing in Napa Valley.  The sculpture was purchased and dedicated by the city of Napa in 1987.
The Grape Crusher weighs 6,000 pounds, stands 16 feet tall, and is set atop a 10-foot base covered in river rock. The statue, which took over a year to complete, is hollow and made of bronze.  The artist built sculpted the piece and brought it to the Shidoni Foundry in Tesuque, New Mexico.  At the foundry, the statue was cast into 135 separate bronze pieces, assembled, and shipped to Napa in one piece.
Gino Miles has been an artist since the 1970's.  After attending the University of Northern Colorado, he spend many years in Europe studying art and art history, and founding Italart, an art school for American and German students in the Chianti region outside Florence.  For many years he taught design and sculpture classes while presenting his original pastels and sculptures as well. Gino and his wife now live in Santa Fe, New Mexico, and are the owners of Sculpture 619, a gallery in the heart of Santa Fe's Art District.
If you'd like more information on the artist who created Napa's iconic Grape Crusher, click here for a link to his Santa Fe Studio: http://www.sculpture619.com/about/