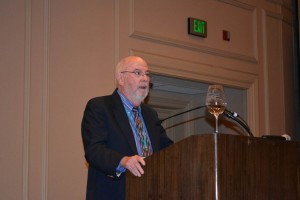 Every year, at the annual conference, the Society of Wine Educators grants a prestigious lifetime achievement award to a deserving wine professional.  Known as "The Grand Award," this award has been presented to a plethora of wine luminaries, includng Robert Mondavi, Sandro Boscaini, Jancis Robinson, Warren Winiarski, Carol Meredith, and Mike Grgich.
This year's award was presented to Patrick J. Cassidy during the Friday luncheon of the Society's 37th Annual Conference, held in Orlando, Florida.   
Professor "Chip" Cassidy's wine experience began over 40 years ago in New York. Working in a wine shop through college led to the head sommelier's position at the Breakers Hotel in Palm Beach. He later became the wine buyer for the Crown Wine and Spirits chain, and worked previously at Sunset Corners, a large volume wine shop. He currently serves as a wine and beverage instructor at the Chaplin School of Hospitality & Tourism Management of Florida International University.
A member of the entering class of FIU's inaugural year, Chip graduated with a Bachelor's Degree in Hospitality Management. His teaching career began in 1984. Today he teaches Wine Technology, The Business of Wine and recently has developed a Wine Certificate Program offered to professionals already working in the wine or related fields.
A noted speaker and fundraiser, Professor Cassidy was instrumental in developing the concept to build the Southern Wine and Spirits Beverage Management Center, a state of the art wine teaching laboratory. A man of many "hats", Chip is a decorated Vietnam War veteran, avid reader, and passionate fisherman. Today he resides in South Miami-Dade County with his wife Christine and beloved golden lab, Darius.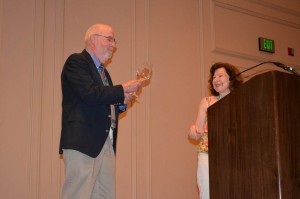 During the awards presentation, Harriet Lembeck, Mistress of Ceremonies, presented Chip with a Riedel "Grand Shiraz" goblet with the following inscription: The Society of Wine Educators toasts  Patrick J. "Chip" Cassidy, CSH & TM at Florida International University for Impeccably High Standards as a Wine Communicator, Fundraiser, War Hero, and Mentor to his Students. Orlando, FL 2013.
Congratulations, Professor Cassidy!