Today we are continuing our series of posts to introduce you to the new members of SWE's Board of Directors.  Read on to meet Master Sommelier David Glancy!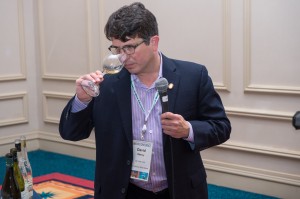 David Glancy has been a wine professional for over twenty years, and has earned more than his fair share of impressive credentials along the way. David is a Master Sommelier, Certified Wine Educator, Certified Specialist of Spirits, and French Wine Scholar. If we were to spell out all of his post-nominals it would look something like this:  David Glancy, MS, CSS, CSW, CWE, FWS.
After several years in the hospitality industry both the U.S. and Asia, David created and taught the Certified Sommelier Program at the Professional Culinary Institute (now known as the International Culinary Center) in Campbell, California. His educational experience also includes teaching wine and business management at Le Cordon Bleu's California Culinary Academy in San Francisco.
More recently, David launched the San Francisco Wine School, offering professional wine courses and certification prep courses, in June of 2011. In addition, David currently runs SFsommelier Consulting, is on the Editorial Advisory Board of Sommelier Journal, and is Echanson Provincial for the Chaine des Rotisseurs Pacific Northwest.
David's first love was a glass of Vouvray, soon followed by another glass. Today, he says he could happily live on Champagne alone. Welcome, David!