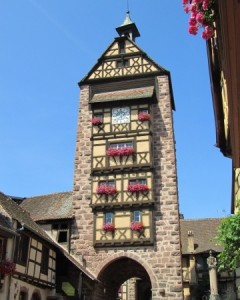 Alsace, with its strategic location tucked between the Vosges Mountains and the Rhine River, has passed between French and German rule for hundreds of years. As a matter of fact, in the period between 1844 and 1919, Alsace was passed back and forth between the two regions four times! However, with the ratification of the Treaty of Versailles in 1919, Alsace became officially French.
Alsace has a long history of wine production…viticulture and wine making in the region has been traced to the fourth century BC!  However, due to the fact that even after Alsace's return to France in 1919, German wine laws remained in effect for quite some time, Alsace was not granted an Appellation d´Origine Controllê until 1962.
Currently, 119 communes are allowed to produce Alsace AOC using the following ten grape varieties: Riesling, Gewurztraminer, Pinot Gris, Pinot Noir, Pinot Blanc, Sylvaner, Muscat, Chasselas, Auxerrois, or Klevener de Heilgenstein.  (Klevener de Heilgenstein, aka Savignin Rose, may only be grown in a few areas.)
The AOC for Traditional Method Sparkling Wines – Crémant d'Alsace – was approved in 1976. Crémant d'Alsace may be produced using any of the 10 approved grapes of the region, and may include Chardonnay as well.
Despite the fact that most Alsatian wines are dry, in 1983 two new designations were introduced – Vendange Tardive (Late Harvest) and Sélections de Grains Nobles (Botrytis-affected) – which may be used for sweet wines. These changes, now known affectionately as "Hugel's Law," came about as a result of an effort by Jean "Johnny" Hugel, who first described a wine as a "vendage tardive" after the long, hot summer of 1976.  Interestingly enough, up to this point the laws of the Alsace AOC stated explicitly that the wines be dry, despite the region's Germanic influences and the long history of dessert wine production just across the border.
Johnny Hugel recognized that despite the laws, warm vintages had produced wines with residual sugar and the accompanying lushness and longevity.  He also knew that shortcuts could be taken in the cellar to produce sweet wines, so he drafted a set of strict rules and regulations for Vendage Tardive* and Sélections de Grains Nobles, which were eventually accepted by the INAO in 1984 (with the minimum sugar levels increased in 2001).  The Hugel & Fils website has a very nice summary of the regulations, and an homage to Johnny and his dedication in getting Hugel's Law passed…click here and follow the link to "Vendage Tardive and SGN."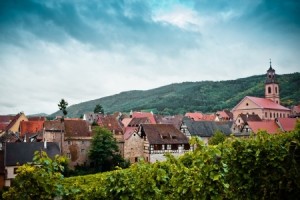 In 1975, the laws were revised once again to designate some of the outstanding vineyards of Alsace as "Alsace Grand Cru." Beginning with the 1983 harvest, 25 vineyards were allowed to use the "Grand Cru" designation on their labels.  The law was revised in 1992 when another 25 vineyards were added to the list.  The 51st Grand Cru, Kaefferkopf, was awarded in 2007. As of 2011, each of the Alsace Grands Crus was awarded its own AOC.
With very few exceptions, all of the Alsace Grands Crus wines are 100% varietal white wines and must be exclusively produced with one of the four "approved" varieties of the Alsace Grand Cru:  Riesling, Muscat, Pinot Gris, and Gewurztraminer.  The few exceptions include:
Zotzenberg, which may be produced from 100% Sylvaner; blends are also allowed.
Altenberg de Bergheim, which may produce blends containing 50-70% Riesling, 10-25% Pinot Gris, and 10-25% Gewurztraminer; as well as up to 10% (total) of Pinot Blanc, Pinot Noir, Muscat, or Chasselas – but only if the grapes were planted before 26 March 2005.
Kaefferkopf, which may produce blends containing 60-80% Gewurztraminer, 10-40% Riesling, up to 30% Pinot Gris, and up to 10% Muscat.
The website Alsace-Wine.net has a sortable list of Alsace Grand Cru linking to a great deal of information about each of these fascinating vineyards!
*Interesting Factoid:  The name "Vendage Tardive" is sometimes written in the plural form, "Vendages Tardives," to indicate that several actual "sweeps" of the vineyard might be used during harvest. Both versions are correct.
The changes in the status of the Alsace Grand Cru is one of the many wine-world updates you can find in SWE's new, improved, and updated CSW Study Guide, to be released in September 2013.