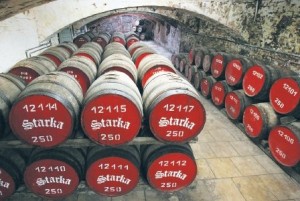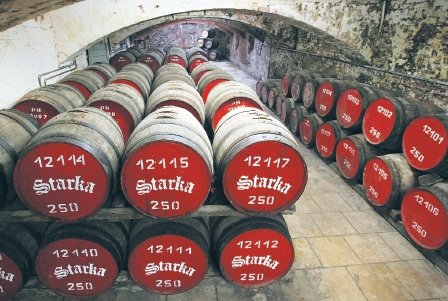 Here's something that sounds new:  Oak-Aged Vodka! Sure enough, cutting-edge spirits producers such as Absolut, Adnams, and Bendistillery are producing Oak-Aged Vodkas that are flying off the shelves. However, like so many things, it seems to be a case of "everything old is new again!"
Starka, perhaps the "original" Oak-Aged Vodka, has been produced in Poland and Lithuania since at least the 15th century, when the region was known as the Polish-Lithuanian Commonwealth.  By the 1800's, Starka was the favorite potent drink of area, beloved by both the gentry and the commonfolk alike.
Tradition held that upon the birth of a child, the father of the house would place a large quantity of homemade sprits into an empty oak barrel, seal the barrel with beeswax and bury it in the ground, where it aged until the child's wedding day.
By the late 1800's, various companies in the area, which by this time was divided into Imperial Russia and the Austro-Hungarian Empire, began to mass produce Oak-Aged Vodka.  The vodka became widely known as Starka;  a term that  referred to the aging process and, alternatively, meant "old woman!"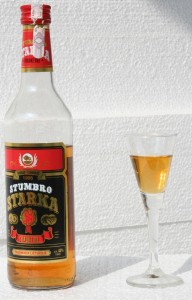 Starka production continued after World War I, which ended foreign rule over both Poland and Lithuania, and all throughout the post-World War II era when Lithuania was part of the Soviet Union.  During this time, liquor production in Poland was nationalized, but production of Starka, mostly as a high-end export product, continued uninterrupted.
Currently, only Polish Starka is considered "true Starka." It is now produced by only one Polish Company,  Polmos Szczecin. Polmos Szczecin Starka is produced from natural Rye Vodka aged in oak barrels with a small addition of apple leaves and lime leaves.  The product is offered in various age classes ranging from 5 years to over 50 years old.  Their oldest product dates back to 1947.  In addition, there are a number of companies in Lithuania, Bulgaria, Russia, and Latvia producing what is considered to be "Starka-style Vodka" produced mainly from neutral spirits and herbal tinctures.
As for the modern era, Oak-Aged Vodka seems to be catching on.  The well-known Swedish Vodka producer Absolut has recently launched an oak-aged product called "Absolut Amber," named after the color the vodka takes on due to oak influence.  According to their website, Absolut Amber is aged in a combination of French, Hungarian, and American (ex-Bourbon) barrels for about six months. The aged vodka is then blended with "macerated spirits" (spirits soaked in wood chips) so that it touches a total of 8 types of wood before being bottled.  Absolut Amber is slowly making its way to the American market; it has been launched into the U.S. but is currently only available at airports.
Various reviews on the Absolut Website use the following words to describe Absolut Amber:  "rich, mellow, oaky flavor, smooth, vanilla, coconut, deep amber color, smoky aroma, spicy, allspice, dried orange peel."  One reviewer said it was "not quite like a whisky but a step above vodka." Very interesting!
What is even more interesting to me is the very creative array of Amber-based cocktails to be found on the Absolut Amber Website, such as the "Absolut Amber Nectar" which combines the spirit with apple juice, honey, and a twist of orange.
Other distilleries are producing oak-aged vodkas as well. Adnams Distillery in the U.K. produces a "North Cove Oak Aged Vodka." The Adnams  Distillery product is made from barley-based vodka and is aged in a mixture of French and American Oak.  Alas, it does not seem to be available in the U.S.
Closer to home, the Bendistillery in Oregon ages its Crater Lake Vodka "briefly in New American Oak." This gives the vodka a "spring water character" and a bit of vanilla-nutmeg spiciness. Click here  for a list of stores that carry Crater Lake Vodka in the U.S.
Vodka, meet oak – its 1525 all over again!
For more information:
Adnam's North Cove Oak-Aged Vodka
Click here to return to the SWE Website