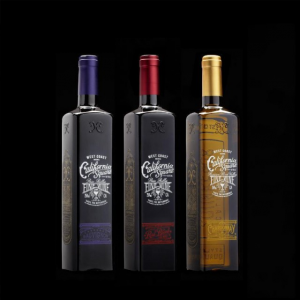 Dry Creek Valley wine producer Truett-Hurst has released a new range of California wines – a red blend, a Paso Robles Cabernet Sauvignon, and a Russian River Chardonnay – known as "California Square."  Priced at $20.00 a bottle, the wines are good, but perhaps not particularly newsworthy. However, the company claims to have just launched the "the world's first range of wines in square bottles!"
The bottles, modeled after old-time spirits bottles, are eye-catching indeed.  Designed by Kevin Shaw of the award-winning drinks packaging design firm "Stranger & Stranger," the ornate bottles feature embossing, retro graphics, and screen-printed labels.
According to the California Square website, the bottles make for a more sustainable wine, as shipping, storage, and packing are more efficient, compared to round bottles.  They also claim that the square bottles make "lifestyle sense" as they do not require a dedicated wine rack for storage and they won't roll away – I am sure we can all relate to that one!
The bottle itself can also be re-used in a myriad of ways.  I have to admit, just looking at the bottle I thought of quite a few….olive oil decanter, flower vase, oil torch, water carafe, and soap dispenser. The website has few more creative ideas such as "message in a bottle," homemade flavored vodka and "ship in a bottle."
In a world full of gimmicks, of course, the wine inside has to stand up to the glamorous exterior, and thankfully, Truett-Hurst winemaker Ginny Lambrix has crafted the wines, produced with grapes grown using biodynamic principles, with care.  Here is a quick rundown of the three offerings:
Cabernet Sauvignon, Paso Robles, 2012 – A base of Cabernet Sauvignon blended with a touch of Merlot and Cabernet Franc, this structured wine shows typical "Cab" aromas and flavors of blackberry, black plum, cheery, licorice and savory herb. The winemaker calls this wine a "sexy beast." We can only hope!
Red Blend, Paso Robles, 2012 – A blend of 8 different lots and 5 different varieties – Petite Sirah, Syrah, Merlot, Sangiovese and Zinfandel. Each lot was individually fermented to coax maximum flavor and texture from the grapes. The resulting blend is juicy, rich, and complex with flavors of red berries, chocolate, plum and spice.
Chardonnay, Russian River Valley, 2012 – Produced with 100% Chardonnay, the grapes for this wine were whole cluster pressed for enhanced texture and extraction of skin flavors.  A portion of the wine (70%) was fermented in French Oak barrels with active lees stirring and MLF; the remaining wine was cold-temperature stainless steel fermented. The resulting wine shows both oaky-vanilla-tropical fruit flavors and a bit of citrus-floral-minerality as well.
"California Square" wines are available throughout the U.S. at Total Wine and More locations.
Click here to visit the California Square Wines website.
Click here to return to the SWE Website.