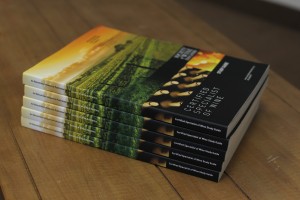 Every month, we offer an end-of-the-month quiz – with prizes, of course.  Quiz questions cover the educational material posted to Wine, Wit, and Wisdom for the month. This month's quiz has 10 questions that cover the topics and information included in our posts for the month of October, 2013. Everything you need to know to pass the quiz is here on our blog!
This month, our prize is a copy of our newly released CSW Study Guide – hot off the presses and in all of its full-color glory!
To refresh your memory, our posts for the month of October were:
Best-Selling Spirits in the World (October 1)
Moon Mountain AVA (October 3)
Clos Vougeot (October 5)
Professor Maynard Amerine (October 7)
Vodka, Meet Oak (October 10)
A New AVA for Santa Barbara (October 14)
The New CSW is Here! (October 15)
A Bitter Battle over Sweet Wine in the Loire (October 18)
Message in a (Square) Bottle – (October 20)
Meet the SWE Board (October 22)
Everyone who takes and passes the quiz with 100% of the questions correct by November 7, 2013 (midnight CST) will have their names put into a drawing for the prize! You can take the quiz over and over again if you like…it's all about the education! The winner will be notified via email onNovember 8! Click here for a link to the quiz. If you have any questions, contact us at:  jnickles@societyofwineeducators.org .
Update:  Congratulations to our November winner…Barbie Jean Messa! Barbie Jean is the creator (along with her husband) and SVP of Marking for a Flash Wine Site: Vinport.com.  Vinport specializes in unique imported wines, many of which are exclusive to Vinport.com.  While a full-time grad student working towards a PhD in Psychology, Barbie also conduct wine education for Vinport events, and blogs at "Blindly Guessing Grapes!" Congrats to Barbie!