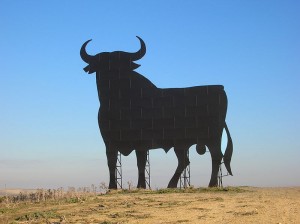 The Osborne Bull:  regarded as the "unofficial" symbol of Spain, he weighs sixty tons and stands as tall as a four-story building. There are currently 90 of them scattered throughout the country, many of which are protected as national monuments.
His image can be found on stickers, key rings, and, at sporting events featuring Spanish teams or athletes, embedded in the middle of the Flag of Spain. The free-standing bulls are so emblematic of Spain that separatists have, on occaision, attempted to tear them down at various times in Catalonia, Mallorca, and Galicia.
The "Toro de Osborne" was designed by famed Spanish graphic designer Manolo Prieto in 1956 as an image to be used on bottles of Osborne's "Veterano" Brandy de Jerez. Over 500 "Billboard versions" of the bulls, with the name "Veterano Osborne" painted across them in red, were soon scattered strategically throughout Spain, along the roads and highways.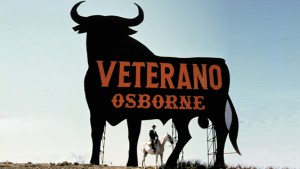 By the 1980's, the Bulls had become so indicative of the Osborne brand that the company stopped painting their name across the bulls.  Today, there are only two signs in Spain with the word "Osborne" still painted on them; one at the Jerez de la Frontera Airport, and one in the town of El Puerto de Santa María, where the Osborne headquarters is located.
In 1998, a Spanish law was passed that prohibited billboards and other advertising along Spanish roadways.  It seemed as though the bulls were to be torn down to comply with the new law.  However, an unprecedented popular movement caused the Spanish Supreme Court to "pardon" the Osborne Bull due to cultural and artistic interests.  In the words of the Spanish Supreme Court, the Osborne Bull had "exceded its initial advertising sense and has been integrated into the landscape."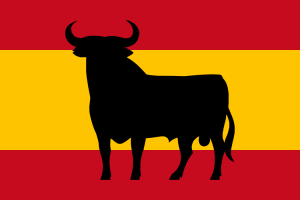 The original bulls were carved, true to Manolo Prieto's original drawing, out of wood.  However, the wooden signs soon weathered and were replaced with a sturdier metal version.  Today's metal bulls are created from seventy individual pieces of iron held together by 1,000 bolts, four scaffolding-like turrets held in place with bases that weigh a combined 55 tons, and decorated with 20 gallons of black paint. The Osborne Bulls are maintained by the family of Félix Tejada, one of the leading "metalúrgicos"  (metalsmiths) of Spain.
Click here to visit the Bodegas Osborne website.
Click here to return to the SWE Website.