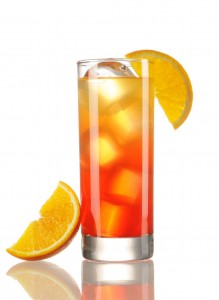 Grenadine:  it puts the sunrise in Tequila and turns simple rum-and-pineapple juice into a glamorous Mary Pickford. It sits on every back bar in the world, gleaming with an unnatural, almost nuclear-red glow.
It glows – unnaturally red – that is, if you buy store-bought Grenadine.  Like most bar mixers, Grenadine is mass produced and widely distributed.  You can probably pick up a bottle at your local grocery store, and your corner bar most likely orders it by the case.
But you might want to think twice before you pick up your next bottle of Trader Vic's or Rose's Grenadine.  A popular brand of commercial grenadine – let's just say it represents just about all commercial grenadine products – lists the following ingredients on the label: high fructose corn syrup, water, citric acid, sodium citrate, sodium benzoate (preservative), RED 40, natural and artificial flavors, BLUE 1.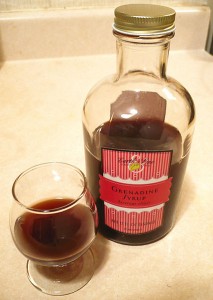 Grenadine was originally made from pomegranate juice, sugar, and water, although black currants are just as likely to flavor today's commercial versions. The name "Grenadine" originates from "grenade" – the French word for pomegranate.
Pomegranate syrup, which can be found in most Middle Eastern grocery stores (as well as Whole Foods Market), is made with pomegranate concentrate and sugar, and can serve as a decent substitute.
However, like many things to be found on the back bar, Grenadine is simple to make, and house made products are far superior to the mass-produced versions.   I've tried several recipes over the last few weeks, and have come up with my favorite version.
Try it for yourself – and let us know what you think!
Grenadine (The "Real Deal")
Ingredients:
1 cup Pomegranate Juice – fresh squeezed is best, but a good brand like "Pom" will work as well
1 cup Sugar
¼ teaspoon fresh Lemon Juice
4 drops Orange Flower Water
Optional:  1 tablespoon Pomegranate Molasses
Technique:
Heat the pomegranate juice until steam rises from the surface; do not heat beyond this point – you want to turn the heat off before (of as soon as) you see any bubbles start to form.  Remove the pan from the heat.
Add the sugar and stir.  Let the mixture sit for a few minutes, then stir again until the sugar dissolves.
Add the lemon juice, orange flower water and optional pomegranate molasses.  Let the syrup cool to room temperature (about an hour) and transfer to a glass container with a tight-fitting lid.
Stored in the refrigerator, your homemade grenadine will stay fresh for about a month.  If you would like to extend the life of your grenadine, try freezing a portion of it, or adding a few tablespoons of vodka to the cooled syrup.
Click here to return to the SWE Website.