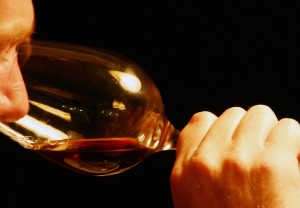 The Nose, a novel by James Conaway, in a nutshell:  Agatha Christie meets Sideways meets Bonfire of the Vanities in a delicious tale of  the perfect wine and a vain, self-satisfied, and extremely influential wine critic on the loose in Napa Valley.
This is a fun book:  not long after we meet Clyde Craven-Jones, aka "The Nose," we're invited to join him for a typical Thursday morning, consisting of blind-tasting the week's crop of newly released vintages and grading them on his patented numbered scale.  (The lead character's similarity to another (never named) influential wine critic with a similar such graded scale is hard to miss.)
Not long after the nose sniffs out his weekly winners, a mystery bottle of Cabernet arrives at his door.  He sniffs, he sips, he spits, and declares it to be a perfect 20 – an accolade he has never granted before.  The mystery begins as C-J tries to locate the producer of the "perfect 20."  His quest comes to an abrupt end when our critic is found, face down, floating in a vat of newly-fermented Cabernet. The scene somehow manages to be gruesome and funny at the same time.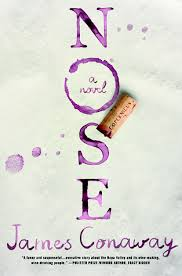 After C-J's untimely death, his widow continues the quest to find the producer of the perfect Cab.  Along the way, we meet a bumbling cub reporter, a biodynamic farmer, a blonde bombshell, and more than a few greedy producers of cultish techno-wine.   A friendly crew of wanna-be wine writers, fashionistas, and wine lovers savant try to help solve the mystery but mostly just hang out and drink amazing wine at a seedy bar called The Wine Glass – and you just can't help but want to join them.
James Conaway's books on the California wine scene – including Napa: The Story of an American Eden and its sequel, The Far Side of Eden, are surely already well-known to both fans and serious students of California wine. Wine lovers, as well as those that enjoy a good mystery and perhaps even a slightly snarky comedy-of-manners, California style, will enjoy The Nose as well. (Holiday Gift Alert!)
Click here to return to the SWE Website.