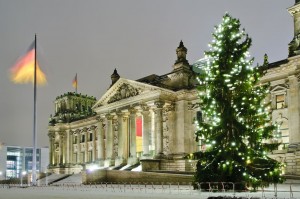 Who knew? There was, according to at least one German newspaper, an "Ice Wine Fiasco of 2011."
Under German law, grapes for Eiswein may only be harvested when the temperature is –7° C (19° F) or colder. The grapes must then be harvested before they thaw, usually in the early morning hours, and pressed while still frozen.
In 2011, it did not get cold enough in many of Germany's vineyards to produce a true Ice Wine, and as a result, a good deal of the grapes spoiled on the vine. And yet, 470,000 liters of ice wine were declared.
According to Ulrike Höfken, the Environmental Minister of Rhineland-Palatinate, a large percentage of the Ice Wine declared in 2011 was rejected by State Inspectors.  The main reasons cited for the rejection of the wine was inaccurate reporting of alcohol content and  excessive amounts of volatile acidity.  At the heart of the matter was the suspicion that the wines had been illegally doctored with added sugar, water, flavors or glycerin.  Most of the wine estates involved deny such claims and many have filed lawsuits, the results of which are yet to be determined.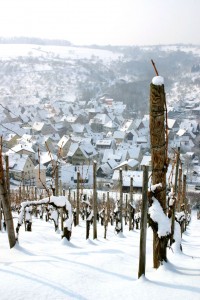 In order to avoid a repeat of just such a fiasco, a new law has been enacted, covering the German state of Rhineland-Palatinate.  Rhineland-Palatinate is home to six of Germany's thirteen Anbaugebiete, including the Rheinhessen, Pfalz, Mosel, Nahe, Mittelrhein and Ahr.
The new law requires wine growers to declare the amount of grapes, type of grapes, and the location of said grapes that are intended for use in  ice wine by  November 15, before the harvest.  Previously, growers had until January 15 of each year to make their reports to the Landesuntersuchungsamt (LUA), otherwise known as the State Agency for Consumer Protection.
According to the LUA, the new law will help to preserve the reputation and quality of German Eiswein by allowing State Inspectors to monitor the grapes and their suitability for use in ice wine before the harvest.
For more information, click here (use Google Translate if necessary).
Click here to return to the SWE Website.