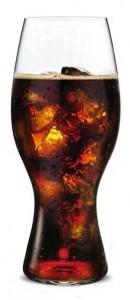 As I swirl my lovely Riedel glass, I detect hints of cinnamon, allspice, cherry, currant, and anise.  Could it be Côtes du Rhône, Oregon Pinot Noir, or perhaps Chianti?
Maybe for dinner…but for lunch today I am savoring Coca-Cola from the latest creation of Riedel, the renowed  Austrian glass company that made its name by creating the "perfect" wine glass for just about every wine type and variety imaginable.  (Their Zinfandel glass is,  in my opinion, the perfect all-around wine glass, as well as an object of subtle and timeless beauty.)
To create their signature Coca-Cola Riedal glass, the company has combined the style of the top of their Riedel-O Sauvignon Blanc glass with a slight curvature through the middle, a bit of a flare and a short, flat base.  It's slightly reminiscent of a classic roadhouse "coke" bottle of years past. But this is serious stuff – if you believe in Riedel (and just about all the wine lovers I know truly do believe) you believe this glass will enhance the flavor and experience of your Coca-Cola.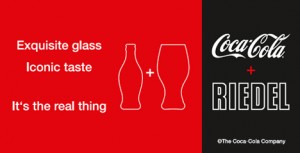 Don't be tempted to cheat, however…the glassware comes with a stern warning.  It is not  designed for Diet Coke, and definitely will not work with Pepsi, Sprite, or Dr. Pepper.  I am determined, however, to see for myself how it works with a Rum & Coke. (I am sure George Riedel would approve.)
The Coca Cola+Riedel glass is available at retail for about $19 a glass or $29 for a set of two.
For more information, see the Riedel Website.
Click here to return to the SWE Website.