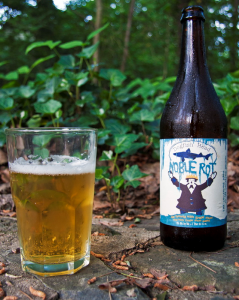 Beer's gone wild!
With the growth of micro-breweries over the past thirty years and a diverse consumer base, brewers are on the lookout for new ideas, ingredients, and styles, and aren't afraid to push the boundaries of what beer can be.  Beer has been flavored with fruit for centuries, so it doesn't seem odd that brewers would turn to their cousins in viticulture to find Beer's new frontier.
Dogfish Head Brewery in particular has built their reputation courageous experimental beer styles.  Based in Milton, Delaware; Dogfish Head was founded by Sam Calagione in 1995. Originally building their reputation with a series of increasingly hoppy India Pale Ales (IPA), the brewery has proven itself to be fearless when it comes to making beer.  They produce a wide variety of ales with an even wider variety of ingredients.    Even if one does not like a particular beer, it is undeniable that their products are always fascinating.
The brewery spent most of first decade of the 21st century re-creating "Ancient Ales," ales based on the residues of beer-styled beverages found in archaeological sites around the world.  These included "Chateau Jiahu" a beer based on residue dating back to 7th century China and "Midas Touch Golden Elixi,r" a strong ale made with Muscat, honey, and saffron.  With ingredients and styles like this, it doesn't seem surprising that Dogfish Head would look to wine for a new ideas.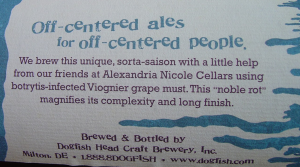 In 2010, Dogfish Head began to collaborate with Alexandria Nicole Cellars, a winery located in the Horse Heaven Hills AVA in Washington.  The winery supplied botrytis-infected Viognier must which the brewers used to create their "Noble Rot" Ale.  The brewery ferments the must together with the malt, creating a dry, complex and unique ale. It pours a light golden color and has a conflicted aroma, at times one can easily discern the characteristics of Viognier – a slightly sweet and tart apple and a faint hint of honey.  You almost expect to experience the flavors associated with Sauternes, especially honey.  Instead, the beer is light, crisp, and dry.  It marries the light fruity, floral components of Viognier with the malt backbone and carbonation of an ale.  It's only as the beer warms that one can detect a pleasant honeysuckle that recalls Sauternes.
As microbreweries grow and expand, and brewers continue to venture to find the next frontier, it makes sense to expect to see more beers influenced by wine.  From grape juice to wine barrels to yeasts, breweries will be able to incorporate different elements at different stages of production, further cementing America's new tradition of fearless beer production.
Click here to return to the SWE Website.