In the late 1700's, at the time the London Dry Gin style was becoming wildly popular,  distillers in other English cities developed their own styles of gin as well.  Plymouth, Bristol, Warrington, and Norwich all had their unique styles. Plymouth Gin, produced since 1793, is the only one of these historic gins still produced today.
The building which was to become the Plymouth Gin distillery was originally a Dominican Monastery inhabited by an order known as the Black Friars. In 1536, at the time of the Reformation, the Monastery was dissolved and the building was put to other uses, including a debtor's prison and a meeting place.  Legend has it that the Plymouth pilgrims who sailed to America aboard the Mayflower spent their last night in England here in 1620. The next morning, they made the short walk down to the harbor, ready to set sail to America and found a "new" Plymouth. The Mayflower ship forms a part of Plymouth Gin's trademark label today.
In 1697, the building became the Black Friar's Distillery.  Part of the distillery is housed in what was once the rectory of the monastery and retains a hull-shaped timber roof built in 1431.  This makes it one of the oldest buildings in Plymouth and a protected national monument.  With records of a "mault-house" on the premises dating to 1697, the distillery also claims to be the oldest working gin distillery in the world. The distinctive Plymouth Gin began to be produced in 1793, not long after the business became known as "Coates & Company."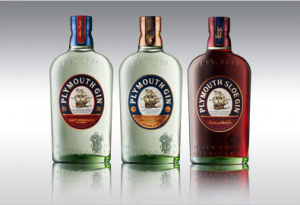 In 1896, Plymouth Gin was mentioned in what is considered to be the first documented recipe for the drink that would become known as the dry martini. The recipe, under the name "Marguerite Cocktail," appeared in a book published by the Excelsior Publishing House in New York known as "Stuart's Fancy Drinks & How to Mix Them," by Thomas Stuart.  Plymouth Gin is listed as the key ingredient, along with "French Vermouth and a dash of orange bitters."
The style of Plymouth Gin is crystal-clear color in color with a full-bodied texture, fruity aromas and a very aromatic juniper berry profile.
For more information, visit the Plymouth Gin website.
Click here to return to the SWE Website.