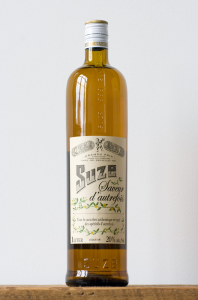 Suze, a lightly sweet type of bittered liqueur, was created in Paris in 1889 by a distiller named Fernand Moureaux.  While Suze has long been popular in Europe as an aperitif and mixer, it has just become available on the American Market.
The original recipe for Suze called for wild gentian root harvested from the mountains of the Jura and Auvergne regions of France.  Other ingredients in this highly aromatic, bright yellow liqueur include vanilla, dried wildflowers, fennel, bitter oranges, and honey.
Now produced by Pernod Ricard, Suze is among the top selling aperitifs in France.  The fame and reputation of Suze received quite a boost in 1912 when it was featured in the painting "Verre et bouteille de Suze" (Glass and Bottle of Suze) by Pablo Picasso.
The painting, actually a collage, incorporates bits of newspaper, wallpaper, and construction paper to portray (some art critics say "suggest") a liquor bottle with a label, a glass, an ashtray, and a lit cigarette. These all rest on a blue table in front of a wall covered with diamond-patterned wallpaper and pieces of newspaper.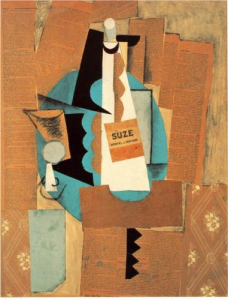 These elements all represent the popular daily Parisian routine of reading the paper while smoking and drinking in a café; however, at the same time, the newspaper articles themselves tell of the terrifying events of the First Balkan War. Many art critics believe these elements represent the juxtaposition of the simple pleasures, as well as the horrors, of modern life.
If you would rather concentrate on life's pleasures, try a White Negroni – 2 parts gin, 1 part Suze, and 1 part White Vermouth shaken and strained over ice, garnished with a lemon twist.
"Verre et bouteille de Suze" (Glass and Bottle of Suze) by Pablo Picasso is currently on display at the Kemper Art Museum in St. Louis. Click here to read about the painting in the museum's archives.
Click here to return to the SWE Website.