Today we welcome a post on the wines of St.-Émilion from SWE Board Member Paul Wagner.  Paul is always one of the top speakers at SWE's Annual Conference, and in this article he gives us a sneak peak at what is sure to be one of the most intriguing sessions to be offered this August at SWE's 38th Annual Conference in Seattle.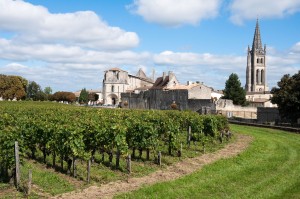 St.-Émilion is unique in the world of wine.  Not only is it a region that produces wines of legendary quality; those very vineyards have been declared a UNESCO World Heritage site.  The city of St.-Émilion would draw tourists from around the world to its historic architectural treasures even if there were no wine there at all.  But none of that makes it truly unique.
What makes St.-Émilion unique in the world of wine is the classification system that re-evaluates the wines of the region every ten years.  Most recently completed in 2012, this system determines the select few that shall be allowed to use the term Premier Grand Cru Classé, which may use the Grand Cru Classé, and which must wait another ten years for that honor.  In 2012 there were only eighteen Premier Grand Cru Classés and only sixty-four Grand Cru Classés.  There are nearly 700 growers.
Where to begin?  We are in France, so we must begin with the terroir.  This is the land of Merlot.  Gentle slopes with a high portion of clay and limestone combine with a temperate climate on the Right Bank of Bordeaux to produce wines that are among the greatest examples of Merlot in the world.
Nearly two-thirds of the vines in St.-Émilion are Merlot.  Smaller percentages of Cabernet Franc, Cabernet Sauvignon, and a trace of Malbec add spice and complexity to the wines.  While the size of St.-Émilion is nearly 1/3 the size of the Napa Valley, the average vineyard parcel is something like 12 acres.  These are jewel boxes, each creating a wine worthy of poetry.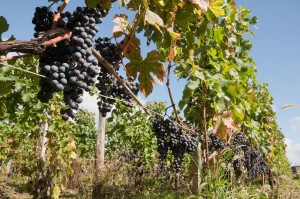 In fact, the Roman poet Ausonius praised these wines (and gave his name to Chateau Ausone) nearly two thousand years ago.  It was the Romans who began to cultivate grapes here, and the wine, even then, inspired odes.   And when a humble monk paused on his pilgrimage to Santiago de Compostela to become a hermit in a cave nearby, the local community and his disciples built a church to honor his holy example.  His name was Émilion, and the church of St.-Émilion, built in 787, can still be visited today.
During the complicated British rule of Aquitaine in the 1100's, St.-Émilion's role as a religious center was recognized as it was granted remarkable autonomy with the creation of the Jurade of St.-Émilion.  This allowed St.-Émilion to have far greater control over the production and sales of wines from the area, and proved to be a key element in developing a reputation for quality and integrity.
Today that continues with the unique classification system that makes sure every bottle of St.-Émilion is worthy of the name and history of this remarkable terroir.
At the SWE's national conference in August there will be a tasting session featuring some of Grand Cru Classé wines from St.-Émilion from 2009 and 2010.  It should be the perfect opportunity to taste the character of Merlot, the history of a legendary region, and the terroir of poetry.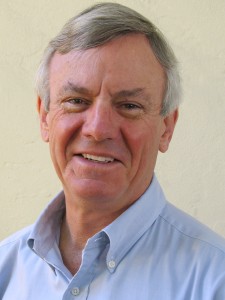 Paul Wagner is president of Balzac Communications & Marketing and is also an instructor for Napa Valley College's Viticulture and Enology department and the Culinary Institute of America at Greystone. He is a regular columnist for Vineyards & Winery Management Magazine, and contributes to Allexperts.com in the field of wine and food.
Paul is a founding member of the Academy of Wine Communications, a member of the nominations committee of the Culinary Institute of America's Vintner's Hall of Fame, and was inducted into the Spadarini della Castellania di Soave in 2005.
In 2009 he was honored with a "Life Dedicated to Wine" award at the Feria Nacional del Vino (FENAVIN) in Spain. He is also a member of the board of directors of the SWE.
Paul's session, "An in-depth look at St.-Émilion," will be presented at SWE's Annual Conference on Friday, August 15th at 10:30 am.
Click here to return to the SWE Website.