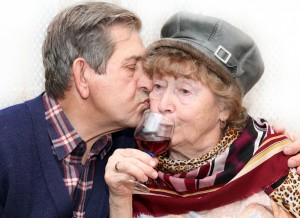 Today we have a guest post from the Very Reverend Paul M. Bailey, who also happens to be a CWE.  Rev. Bailey will be presenting a session entitled "Aging Gracefully" at SWE's upcoming conference in Seattle, and he's here to tell us all about it!
The future, some say, is getting old.  That's not altogether true, of course, but what is true is that significant numbers of our population—known as the Baby Boomers—will be retiring in the next twenty years.  I know; I'm one of them.
Some members of that huge population will be retiring into Continuing Care Retirement Communities.   Retirement communities like this exist throughout America (I am privileged to serve on the Board of Directors of one of them), and they are remarkable places, providing comfortable living spaces, excellent dining, a variety of activities that keep people up and going—they really do epitomize communities of care and interconnection.
The residents are economically comfortable, eager to learn new things, and have time to pursue them.  And they represent a largely, maybe entirely, untapped venue for wine education and sales.  Now, at the beginning of this wave of retirements, is the time to begin turning our attention toward the opportunities provided by these communities.
This largely untapped market for wine education will be examined at a session during SWE's Seattle Conference coming up this August. The session, called "Aging Gracefully" will examine how these Retirement Communities work, take a look at how a wine program has been established in one such community, and consider how participants might take the idea into their own local communities.
If you are a wine educator looking for new opportunities, this is the session for you! As this is new territory, all ideas and reflections are welcome as we explore the possibilities offered in the coming years by association with retirement communities!
The Very Reverend Paul M. Bailey is Rector of Grace Memorial Episcopal Church in Hammond, Louisiana.  A graduate of the Episcopal Theological Seminary of the Southwest in Austin, Texas, he was ordained to the priesthood in 1993.  He is a graduate of contemplative leadership programs at the Shalem Institute and provides leadership for retreats, workshops, and quiet days.  He also serves on the Board of Directors at Christwood Retirement Community in Covington, Louisiana.  He has a long-standing interest in and love for all things enological (as well as theological) and holds SWE's Certified Wine Educator (CWE) designation.