This week, we have a guest post from Don Kinnan, CSS, CWE. Don gives us a bit of history and insight into the wines of Vosne-Romanée, as well as a preview of his session at this year's SWE. Conference.
"Whose vines are worth a ransom of $1.4 million?"   Read on to find out…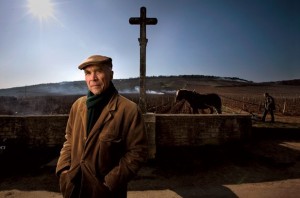 On a cold day in early January, 2010, a letter arrived addressed to Monsieur Aubert de Villaine, co-director of Domaine de la Romanée-Conti.  In it, the writer threatened to poison the vines of the acclaimed Romanée-Conti vineyard, unless a ransom of one million Euros ($1.4 million) was paid.  In a second letter, a precise vineyard map was provided identifying 3 vines in the vineyard which had already been drilled and poisoned.  M. de Villaine contacted the local authorities, a "sting" operation was planned, and the perpetrator was apprehended.
The 4.47 acre Romanée-Conti vineyard rests in the heart of the village of Vosne-Romanée. The wines produced from the village's vineyards are among the most sought in the world. The current price of a single bottle of the 2011 Romanée-Conti wine is $12,500.00, according the wine.searcher.com website.
What makes the wines of Vosne-Romanée so special?
Most critics point to its "terroir." Terroir is that combination of physical factors embracing the grapevine and affecting the production of its resultant fruit, the grape.  Soil components, topography, and climatic conditions work together creating a unique environment that produces exceptional grapes for making the wines of Vosne-Romanée.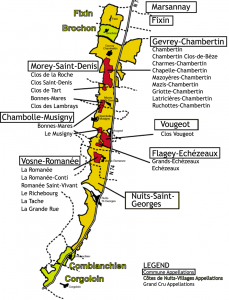 The ace in the hand Vosne has been dealt is its soil. An almost perfect mix of limestone marls laid down some 160 million years ago during the Jurassic period.  These ancient soils were brought to the surface with the same tumultuous forces that raised the Alps and Pyrenees, about  35 million years ago.  Subsequent faulting has resulted in the "shuffling" of Vosne's deck,  causing a mixing of limestone layers from different epochs of the Jurassic.  Physical and chemical weathering over the past 10,000 years have put the finishing touches on what has been described as the "blue ribbon" recipe for ideal pinot noir growing soil.  Other parts of the Cote de Nuits have their own excellent recipes, but Vosne-Romanée reigns supreme.  That recipe is: a blend of white oolites, Premeaux marly limestone, and Calcaire a' entroques  thickened by Ostrea accuminata marl.  This is covered with a topsoil and pebble layer, averaging 3-foot deep, on a gently sloping, eastward-facing incline, lying on fractured limestone bedrock.
What are the best growing sites in Vosne-Romanée?
We have already mentioned Romanée-Conti as the most coveted of Vosne's vineyards.  What are the others?  Burgundy's vineyards are among the most intensively studied in the world.  Benefitting from nearly one thousand years of monastic scrutiny, Burgundy's best growing sites were formally classified with the implementation of the French AOC system in the 1930s.  The best vineyards, based upon their ability to consistently produces exceptional quality wines, are designated Grand Cru.  Within the borders of Vosne-Romanée  there are six Grand Cru vineyards.  Four of the six are "monopoles", meaning that they have a single owner and that owner is the only producer of the wine.  This is a rarity in Burgundy due to the fractionalization of vineyard ownership.
The six Grands Crus are:
Romanée-Conti:    4.47 acres, 450 case average production, bottle price $12,500 (2011 vintage).    Monopole of Domaine de la Romanée-Conti.
Short History:- Tied to the Benedictine Priory of St-Vivant in 13th century;  purchased by the Croonembourg family in 1631; purchased by Prince de Conti in 1760; owned by Nicolas Defer in 1794; bought by Julien-Jules Ouvard in 1819; sold to descendants of present owners, Duvault-Blochet in 1869; in 1942, Henry Leroy purchased a 50% interest.  Currently, Aubert de Villaine and Henri-Federic Roch operate as co-directors of Domaine de la Romanée-Conti.
Notes of Interest:- The last vintage from ungrafted vines was 1945.  The vines were then 300-400 years old.  Replanting occurred in 1947.  No wine was declared under the Romanée-Conti AOC from 1946-1951 inclusive, due to replanting.  At present, the average age of the vines is 60 years of age.
La Romanée:  2.09 acres, 300 case average production, bottle price $4,132 (2012 vintage).  Monopole of Domaine du Comte Liger-Belair
Short History: Famous since the 14th century when it and Romanée-Conti might have been a single parcel.  Ever since 1835, La Romanée has been clearly distinguished from Romanée-Conti; acquired by the Liger-Belair family in 1815.  By agreement, Maison Bouchard Pere & Fils exclusively made and marketed the wine from 1976-2001. Between 2002 and 2005, the Liger-Belair family shared the wine with Bouchard.  As of 2006, complete production and marketing rests with Domaine du Comte Liger-Belair.
Note of Interest: La Romanée is the smallest appellation in the French AOC wine system.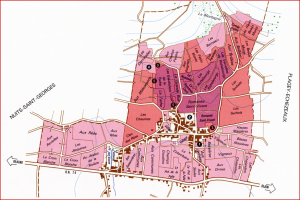 La Tache:  14.97 acres, 1600 case average production, bottle price $2091 (2011 vintage). Monopole of Domaine de la Romanée-Conti
Short History: Owned by Jean-Baptiste Le Goux de la Berchere, president of the Parliament of Bourgogne from 1568-1631 and passed to his descendants until its confiscation by the government during the French Revolution. Ssold in 1794 to Claude-Francois Vienot-Rameau, who sold it to the Liger-Belair family in 1800;  purchased by Edmond Gaudin de Villaine of the Domaine de la Romanée-Conti in 1933.
Note of Interest: Vine age averages 55 years of age and 93% of the vineyard is in production.
La Grande Rue:  4.07 acres, 650 case average production, bottle price $485 (2012 vintage). Monopole of Domaine  Lamarche
Short history: The vineyard dates to the 15th century and has always enjoyed high regard;  purchased by the Marey family after the French Revolution.  Passed by marriage to the Liger-Belair family, and again, by marriage to the Champeaux family.  They sold it to Edouard Lamarche in 1933.  His grand- nephew, Francois Lamarche is the present owner.
Note of Interest: La Grande Rue was elevated to Grand Cru in 1992. In the 1930s, the owners did not apply for Grand Cru status because of tax implications.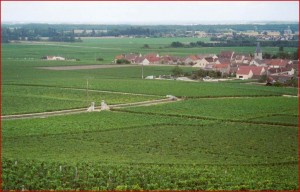 Richebourg:  19.83 acres, 3,000 case average production, bottle price $1400 (DRC 2011 vintage).
Short history: A large part of Richebourg was owned by the Cistercian monks in the 12th century.  The name of the vineyard was first recorded in 1512.  After the French Revolution, in 1791, it was sold to a Parisian banker, Jean Focard.  It was sold to several prominent families in the 19th century.  Ownership, today, is split among 11 owners, including, most prominently, Domaine de la Romanée-Conti, who owns 44% of it.  Leroy is the next largest owner with 10%.
Note of Interest: Richebourg is considered the best of Vosne-Romanee's grands crus, after Romanée-Conti, La Tache, and La Romanée.
Romanee St-Vivant:  23.32 acres, 3600 case average production, bottle price $1421 (DRC 2011 vintage)
Short history: Belonged to the Priory of St-Vivant, a dependency of the Cluny Benedictines in 1232. After the Revolution, was sold to Nicolas-Joseph Marey in 1791.  Descendants of Marey-Monge subsequently sold parts of Romanee St-Vivant to several prominent domaines in the 20th century, culminating in 1988 with the sale of 56% to Domaine de la Romanée-Conti for $10 million.  There are a total of 10 owners today.
Note of Interest: Romanée St-Vivant is the largest grand cru in Vosne-Romanée proper.
The best of the rest: Just below the rank of Grand Cru are the next best vineyards, referred to as Premier Cru. Vosne-Romanée is blessed with 14 premiers crus, including 3 climats located in the neighboring village of Flagey-Echezeaux which are sold under the Vosne-Romanée . Most notable of these premiers crus are: Aux Malconsorts, Cros Parantoux, Aux Reignots, Les Suchots, and Les Beaux Monts.
Postscript:  Nature has bequeathed to Vosne-Romanée an almost perfect environment to produce Burgundy's finest red wines. The humans who care for these cherished vines are of the highest order and see themselves as caretakers of a sacred trust. The result has been acknowledged by wine connoisseurs worldwide and is demonstrated by the market demand for these wines. The value of that which is unique and superlative in its category is clearly seen in the prices being paid by those desiring possession. Truly, Vosne-Romanée stands as the crown jewel of Burgundy's red wines.
Click here for a copy of: Tasting Notes for the Vosne-Romanée Grands Crus from Allen Meadows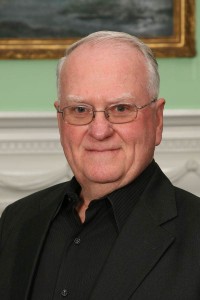 Donald P. Kinnan, CSS, CWE has been in the fine wine trade for over 30 years. In 1985, after a successful military career, he joined Kobrand Corporation as a sales manager and, in 1992 was promoted to Director of Education. As such he was responsible for Kobrand's wine and spirits education programs nationwide for over 20 years.  Don is a long-time member of the Board of Directors of the Society of Wine Educators and currently serves on the organization's Executive Committee.
Re-match! Don will be presenting his views of the wines of Vosne-Romanée, and defending their honor up against Nick Poletto and the wines of Gevrey-Chambertin, at this year's SWE Conference in Seattle. Don and Nick, as well as their perspective regions, will vie for the title of "Burgundy's Best Reds" and will settle the controversy in a true courtroom fashion, presided over by Judge Missi Holle, CSS, CSW. You will be the jury as you weigh the presentation of evidence, taste the wines, and hear the ardent claims of the attorneys representing each side. The verdict will be yours. Will Gevrey, with its Napoleonic endorsement and 9 grands crus, take the title, or will Vosne-Romaneé with its glamour and reputation reign supreme? Join us in Seattle to find out!
Click here to return to the SWE Website.