Today we have a guest post by Laura Lee-Chin, CSW, CSS, IWS. Laura tells us about her personal journey in discovering the interplay between Rhône varietals and chocolate – sounds like a delicious journey!
Finding the Sweet Spot: Rhône Varietals & Chocolate – My Personal Journey
By Laura Lee-Chin, CSW, CSS, IWS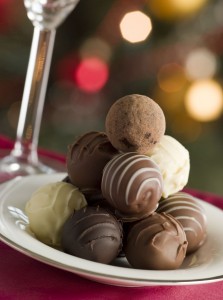 Wine with chocolate is one of my favorite food pairings. I was curious about how the relationship between their tasting components can create delectable matches between wine and chocolate. What better way to learn more about this topic than to write about it? I had already planned a trip to France to visit my husband's family, so I turned it into an opportunity to research wine and chocolate pairings.
But where to start with the research? Fortunately for me, I have French family members with friends in the chocolate business and have personally established some of my own connections in the wine world. After a few emails and phone calls, I had booked appointments at the Cité du Chocolat Valrhona and Paul Jaboulet Aine's Vineum, both located in the northern Rhône Valley city of Tain-l'Hermitage, just one hour south of France's gastronomy capital, Lyon.
My first appointment was at the Cité du Chocolat Valrhona, where I met the Directeur, Franck Vidal. I took a tour of the Cité du Chocolat's museum and learned tremendously. Unlike wine, cacao grows best in the tropical climates. The continent with the largest production is Africa at 71%, with Ivory Coast making up 36% of the world's chocolate growers. Not surprisingly, the United States is the world's largest consumer of chocolate; our land of chocoholics  consumes 20% of the world supply in chocolate. I also learned that Valrhona sources its chocolate from several countries and has cacao plantations in Venezuela and the Dominican Republic. What surprised me most about this tour is how similar the tasting procedure is to wine: it also is based on understanding the tasting components of sweet, sour/acid, salty, bitter, texture—and I would be tempted to add umami as well.
As luck would have it, my meeting with Vidal quickly turned into a spontaneous introduction and chocolate tasting session with Valrhona's Corporate Pastry Chef Derek Poirier, a James Beard Foundation inductee for the 2014 Top Ten Pastry Chefs in America. I showed him an initial list of the types of wines and chocolates I was planning to use for the SWE conference and he immediately pulled out some chocolates to taste. We selected chocolates to take to the Paul Jaboulet Ainé (PJA) Vineum (tasting room and restaurant) the next day. Valrhona also committed to providing all of the chocolates for our SWE class. Sweet (quite literally)!
At Vineum, Jean-Luc Chapel, Prestige Account Manager for PJA, and I agreed upon a tasting strategy for the wines and chocolate—see "Simple Guidelines." A sampling of our tasting notes is below. Coincidentally, English journalist and Decanter Contributing Editor Andrew Jefford happened to be at Jaboulet. The wine gods were smiling upon me once again, and PJA donated 5 wines for the SWE Conference.
Overall, my research visit to find out about wine and chocolate in France ended up being a much deeper journey into tasting. If you'd like to learn more, I hope you will join us to learn more about the featured wines and chocolates to be tasted in Seattle on August 15th. Santé!
Laura Lee-Chin's Simple Guidelines for Pairing Wine & Chocolate:
To make your tasting of wine and chocolate more memorable, here are some simple guidelines of wine and chocolate pairing:
Select a wine that is sweeter than the chocolate. The percentage of chocolate can give you a general idea of its sweetness—a higher percentage of cacao in the chocolate will have a lower percentage of sugar.
Lighter bodied wines can be paired more easily with light, creamy and smooth chocolate (milk).
Full-bodied wines (especially ones with higher sweetness and fruit concentration) can be paired more easily with dark, rich and strong chocolate.
Chocolate can also have tannins, so to avoid too much bitterness, pair it with a sweet, white wine or lighter-bodied fruity red.
Everyone varies in their sensitivities and preferences for wine and chocolate, so use these suggestions above as a guide and enjoy exploring these pairings.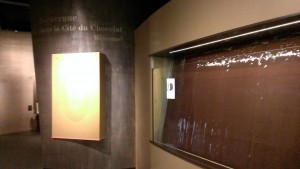 Tasting Notes:  
In France at Paul Jaboulet Ainé (PJA) Vineum
Wine: 2010 PJA "La Paradou" Beaumes de Venise AOP (Rouge) – dry, ripe red fruit, floral (violet, red roses), leather, minerality, hint of black pepper on finish.
Chocolate: Bahibe 46 % Milk Chocolate – sweet milk and intense cocoa notes, fruity acidity, hint of nuttiness, and slightly bitter flavor.
Notes: Balanced acidity in wine enhances fruit, floral, and spice notes while chocolate provides contrasting nuttiness and creamy texture for wine.
Wine: 2010 PJA/Lagune "Evidence par Caroline" – dry, lilacs, blueberry, blackberry, cassis, earth, hint of cinnamon and mint, chalky tannins. (Not yet in U.S., but coming soon!)
Chocolate: Equatoriale Noire 55% Dark Chocolate – cocoa, vanilla, dark fruit notes.
Notes: A very interesting contrast of dark fruit and tropical notes. Wine brings out tropical notes of banana, coconut in chocolate, while chocolate displays dark fruit and silky texture in wine.
Bonus Liqueur: Chartreuse VEP (Exceptionally Prolonged Ageing) 15 yrs – sweet, mint, thyme, caramel, licorice, fresh cut grass.
Chocolate: Equatorial Noire 55% Dark Chocolate – cocoa, vanilla, dark fruit notes.
Notes: wine brings out cocoa, vanilla, dark fruit notes in chocolate, a lovely contrast to notes in wine.
Initial Tasting in California
Wine: 2010 Qupe Marsanne Santa Barbara County, California – dry, pineapple, citrus (lemon, lime) honeysuckle, butterscotch.
Chocolate: Valrhona Blond Dulcey 32% Dulce de Leche – biscuit, butterscotch, toasty, smooth & creamy texture.
Notes: Chocolate complements pineapple and citrus fruits along with creamy texture in wine.
Wine: NV Paringa Sparkling Shiraz South Australia – violets, bacon, dark fruits (plum, black cherry), spice (black pepper, clove).
Chocolate: Valrhona Le Noir Abinao 85% Dark Chocolate – mocha, dark cocoa, tannic, bitter.
Notes: Chocolate complements dark fruit and savory notes in wine.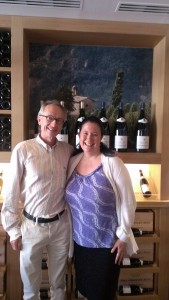 Wine: 2010 Domaine de Durban Muscat de Beaumes de Venise AOP France – floral (honeysuckle, jasmine, orange blossom), white peach, ripe citrus (lemon, lime).
Chocolate: Valrhona Ivoire 35% White Chocolate – milky, vanilla, creamy texture.
Notes: Chocolate draws out floral and peach notes emphasizing creamy texture in wine.
About the author: Laura Lee-Chin is an independent writer, wine educator and consultant. Laura is a featured wine and spirits writer for My Cookshelf.com and has contributed articles to the Caltech Women's Club and other publications. She is a Certified Specialist of Wine and Certified Specialist of Spirits with the Society of Wine Educators, an Italian Wine Specialist with the Associazione Italiana Sommelier and a WSET Diploma candidate with the Wine and Spirits Education Trust, based in London. She is currently a member of the French Wine Society, Guild of Sommeliers, North American Sommelier Association, and Society of Wine Educators. Laura will be presenting her session, Finding the Sweet Spot: Rhône Varietals & Chocolate, on Friday, August 15th, at the 38th Annual Conference of the Society of Wine Educators in Seattle, Washington.
Click here to return to the SWE Website.