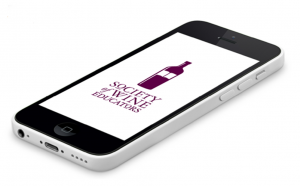 Have you seen our new App?
The Society of Wine Educators is delighted to announce the creation of its new app, SWE Wine and Spirits Quiz, for iOS devices, which will further the message of the Society by providing entertaining and educational wine and spirits quizzes. And its free!
Click here to download the App!
The app was unveiled on August 14th during the "Hipster Happy Hour" cocktail party at SWE's Annual Conference, taking place this year in Seattle, WA. Jane Nickles, SWE's Director of Education, and the developers of the app made a lively presentation after which attendees were able to download it to their iPhones and iPads.
This free download offers a series of fun, educational quizzes from 5 major categories:Red (red wines, red grapes, and red wine-producing regions), Yellow (white wines, white grapes, and white wine-producing regions), Spirits (distilled spirits, vermouth, distillation and cocktails), Sparkling (sparkling wines and rosés), and Dessert (dessert wines and fortified wines.) As an added bonus, all of the questions in levels 1 – 5 are taken from the CSS and CSW Study Guides; everything in levels 6 – 10 are "CSS/CSW and beyond."  Click here to download the App!
Click here to return to the SWE Homepage.