Today we have a guest post from New York Wine Educator Paul Poux, CSW. Paul was lucky enough to take a summertime trip to Italy's northernmost wine regions, and he is letting us come along for the ride! Read on for Paul's fascinating account of this trip to Alto Adige and beyond:
I was determined to not drink Pinot Grigio until my trip to Alto-Adige.
Wouldn't I have my fill of it then? It was the wine I recognized most from the region. Pinot Grigio from Alto Adige, with its mineral zing, was refreshing in the New York summer heat. It kept showing up at home, in our monthly wine club shipment and in the trips my dog (and husband) would make to Trader Joe's NYC store. Our upstate NY store carried 4 wines from Trentino-Alto Adige, all whites, 2 of them Pinot Grigio. And the most recognized Pinot Grigio in the US, Santa Margherita, is from the region.
But when I got to the Alto-Adige, and then Trentino, I saw little Pinot Grigio in stores and on wine lists. The regional website, AltoAdigeWines.com, barely mentions the varietal.
What gives?
I had already had my wine world knowledge tweaked my first night in Milan, at a local trattoria. I chose a Franciacorta from the list, which, when in Milan, is a locally sourced wine from Lombardy. I love sparkling wine and had only had Franciacorta DOCG, once. It was the first night in Italy and I felt like celebrating! But what arrived was not bubbly but a still white wine. The menu had read "Franciacorta," but the bottle said, "Curtefranca DOC." I later learned that the Curtefranca DOC was created in 2008 for still whites and reds, to prevent just this sort of confusion. Luckily this Curtefranca Bianco from Ca' del Bosco, one of the most famous producers in the region, was comforting and cool.
The next day we drove to Alto-Adige, in a blinding rainstorm coupled with the stop-and-go traffic expected on a Saturday in late July, what the Italians call the "esodo d'estivo" – the summer exodus. The swollen Adige River raced alongside the Autostrada and through sheets of rain I could see the vertical cliffs of the Dolomites. The Dolomite Mountains are compressed coral reefs, rich in calcium and acidity. Grapevines in Guyot and pergola formation cover the valley floor and stretch above in steep terraces, from 600 to 3,300 feet above sea level. Apple orchards and castles perched on hillsides fill in the few remaining spaces. As we ascended into the mountains, the rain abated, then stopped. The Dolomites form rings around parts of the region and we could see storm clouds hovering on the far side of the mountains, not able to advance. During our trip, we received very little rain, while the rest of Northern Italy had storms day after day. Some growing areas in the region receive 300 days of sunshine a year.
Our hotel was in the village of Tirolo, about an hour northwest of Bolzano, the capital. Tirolo gave the town and the entire region its name: Alto-Adige is called Südtirol in German. Alto-Adige was part of Austria until 1918, and it is still Italy in name only. The primary language is German. The food, such as the bread dumplings called knodel, is Austrian. All the tourists were from Germany. The architecture is picture-perfect "Sound of Music," chalet-style houses with colorful flowers spilling out of balcony windowboxes. In every village, spotless cobbled streets frame beautiful clock towers that ring on the quarter-hour, all day and all night.  Not great if you are trying to sleep, but it means you don't miss breakfast, either.
Dinner that night was – finally – an introduction to two of the wines of the region. A perfumed Gerwürztraminer from Cantina Tramin glittered gold in our glasses as the sun set. The town of Tramin claims the grape originated there. It was lower in acid and left a slight bitterness on my tongue. Our next wine, an inky Lagrein Riserva from Cantina Meran, showed black fruit, tobacco and some chocolate. It took me a while to learn to pronounce it as the locals do, la-GRYNE. This was my first good taste of this full-bodied wine from an indigenous grape, and I loved it, although it too was low in acidity, and slightly bitter on the finish.
The next day was spent hiking, where we had our introduction to a "rifugio" hut. These are located way up the mountains and are a destination for hikers, who can eat lunch or stay overnight. I was imagining a one-room shack staffed by an elderly couple who would share their cheese and charcuterie; so I was delighted when we arrived at a modern restaurant overlooking a mountain lake and surrounded by waterfalls and patches of snow. We ordered lunch and a bottle of Vernatsch, the indigenous varietal that accounts for 20% of Alto-Adige's wine output. This wine (called Schiava in Italian and Trollinger in Germany) is Maraschino cherry-colored with strong candied fruit aromas. When sniffing it I was sure it was semi-sweet but it's a dry wine, served chilled. It seems not to be taken very seriously except by its producers, but it proved a perfect pairing with my knodel soup. It felt good to be eating and drinking, not hiking. Two of the many dogs in the restaurant started barking at each other. We made friends with others at our farmer's table. All was good at the top of the mountain.
Alto Adige has 8 DOCs and no DOCGs, and 75% of its output carries the "Südtirol" DOC designation, stamped on the label and on the top of the capsule, a great regional branding technique. Varietal name(s) are usually added to the label.
The day we descended from our fairy-tale village to visit Bolzano, we were almost sorry: this pretty, cheery town was crowded with vacationers and the line to see Otzi, the preserved Neolithic man recovered in 1991 from a retreating glacier, wound around the block.  So we walked, visited the local Medieval castle, and visited wineries since grapevines are strung in and around Bolzano. Vineyards planted in the local soils of quartz porphyry produce high-quality Lagrein, which is becoming the 'it' wine of the region, supplanting other grapes and even apple orchards. But at Kellerei Bozen and other cooperatives, and at the many wineries on the "Strada del Vino dell'Alto Adige," a range of wines is on offer, not just LaGrein, Vernatsch and Gewürtztraminer but accomplished Sauvignon Blanc, Pinot Blanc, Chardonnay, and commonly a blend of all three; Pinot Noir, Merlot, Cabernet Sauvignon; and traditional red blends and blends that incorporate Lagrein.  But I hardly saw Pinot Grigio: I don't think much of it is consumed locally.
But it was time for a palate cleanser. We were ready to head south to Trentino and its capital, Trento. To follow us along on our trek, tune back in tomorrow and we'll take you on a tour of Trentino!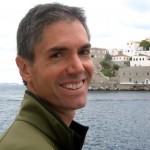 Our guest blogger, Paul Poux, CSW, finds joy in combining food, wine and travel. Paul provides wine education 'experiences'  to Millennials for wine brands and regions; and does marketing and sponsor management for food and wine festivals around the country.
Paul's favorite wines are Amarone and Muscadet. Tell him yours at paul@pouxcompany.com