Today, we have another guest post from New York Wine Educator Paul Poux, CSW, as he finishes his trip to Italy with a wine tour through Trentino!  Click here to read about the first part of his trip.
Trento – what a beautiful, impressive town, stuffed full of handsome Medieval palazzi, many of them frescoed – on the outside! After several days in chilly Alto Adige, we had returned to the Italy that we knew, and basked in the warmer temperatures and cheery "Buongiornos!" that we realized had been absent in the north.
That night, at a casual pizzeria alongside a piece of the Medieval city's old wall, I only saw three wines on the menu, all by the glass: a white, red, and a Franciacorta. I of course ordered the Franciacorta, but what arrived was Trento DOC, a local product, and like Franciacorta, a traditional method sparkling. Its fine bubbles and Trento origin felt perfectly right to me – more so since I had a tasting the next day at the Trento DOC offices.
It's actually "Trentodoc," one word without spaces, explains Sabrina Schench, the director of promotion. I compliment her on the name since I think it's a clever way to refer to itself. "It doesn't sound like we are a doctor?" she asks uncertainly.
Awarded its DOC in 1993, two years before Franciacorta, Trentodoc has its vineyard zones in the cooler hills above Trento and allowed grapes are Chardonnay, Pinot Nero and Pinot Meunier, with Chardonnay dominant.  Trentodoc offerings range from non-vintage Brut aged at least 18 months on the lees to 24 months for Vintage brut to at least 36 months for a Riserva.
I tasted 15 brut and brut zero ("dosaggio zero") wines dating back as far as 2004 and amidst the stream of what Trentodoc calls "tiny and persistent" bubbles I found neutral aromas but in many a delicious flavor of golden delicious apples. Why was I chasing Franciacorta when I had discovered a unique and refined wine right here in Trento?
Trentodoc produces 7 million bottles that are mostly consumed within Italy. They are outgunned in the promotion game by Franciacorta (14 million bottles) and by Prosecco (245 million) and they know it. They are planning outreach to parts of the US market in 2015 and realize it is going to take time. But to show me what is possible within Italy, they sent me to Ferrari.
Giulio Ferrari was the first to make traditional method sparkling wine in the area, over 100 years ago. He visited and studied Champagne's methods and planted the first cuttings he brought back. His sparkling production stayed small until he sold to the Lunelli family in 1952.
Ferrari's subsequent success has inspired almost 40 other Trentodoc producers but Ferrari is the largest, at 5 million bottles responsible for 70% of Trentodoc production.
The visitors' center for Cantine Ferrari announces that it is not just a winery but something approaching a fashion brand. Red carpet runways lead past photo collages of boldface names enjoying Ferrari Trentodoc: Donatella Versace, Jessica Alba, Woody Allen, Andy Warhol, even Margaret Thatcher.
Camilla Lunelli, a member of the family who have owned Ferrari since 1952, is warm and welcoming. She assures us that it is a Ferrari Trentodoc, not Franciacorta, that is served at the official residence of the President of the Italian Republic, and to the Italian national soccer team.
I tasted four of Ferrari's offerings, from the Ferrari Brut NV ($25), with a characteristic green apple flavor, to the Riserva Lunelli 2004 ($60 but not commonly available in the US), aged 8 years, that possessed remarkable earthy and umami aromas.
Why do Americans not know more about Ferrari and about Trentodoc?
Lunelli says the answer is somewhat complicated: "First we have to say what we are not. We are not Champagne. We are not Franciacorta. And we are not Prosecco."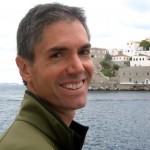 Our guest blogger, Paul Poux, CSW, finds joy in combining food, wine and travel. Paul provides wine education 'experiences'  to Millennials for wine brands and regions; and does marketing and sponsor management for food and wine festivals around the country.
Paul's favorite wines are Amarone and Muscadet. Tell him yours at paul@pouxcompany.com
Click here to return to the SWE Homepage.