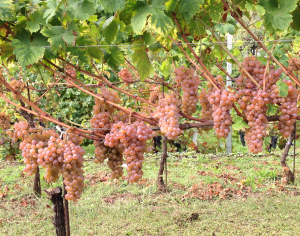 The goddess Albaluce – the love child of the Sun and the Dawn – was not happy. It seemed many of her followers in the enchanted land of Caluso were desserting her in favor of a new religion known as Christianity. As she sat down and shed her tears, a grapevine grew and brought forth sweet grapes with a bright copper hue. Eventually, these grapes became known as Erbaluce in her honor.
Great story, isn't it?  Or perhaps we should simply refer to it as what it is – a legend, that, while surely fiction, does at least let us know that Erbaluce is an ancient grape. We also know – somewhat for sure – that the grape is native to Piedmont, which has written records of the grape dating back to 1606. These days, it rarely ventures far from home, and is an allowed variety in just a handful of DOC/DOCGs – all of them in Piedmont.
Erbaluce's unique copper color – sometimes accompanied by pink highlights as the grape ripens – has given rise to the nickname Uva Arrostita, or "roasted grape."  Modern science, through DNA profiling, has revealed that Erbaluce is closely related to another Piedmont native, Cascarolo Bianco, although who exactly begat whom is not clear.
Erbaluce is cultivated in a variety of provinces in and around Turin, but is most associated with the town of Caluso. Even here, however, it is a rarity – at last count, there were less than 800 acres – and its wines are seldom seen out of the region.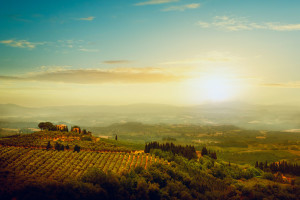 Erbaluce di Caluso was granted DOC status in 1967, and was promoted to DOCG in 2011. The disciplinare allows for dry white wines, sparkling wines, and sweet wines – all produced with 100% Erbaluce grapes. The dry white wines go by the name Erbaluce di Caluso, while the sparkling wines, appreciated for the fresh fruit character and mineral aromas – are known as Caluso Spumante.
But the real star is Caluso Passito – a sweet, dried grape wine with a minimum of 7% residual sugar, 12.5% alcohol, and 36 months of aging (48 for the Riserva).  Caluso Passito is known for its aromas of apple, vanilla, citrus, honey, and almonds –and while I've only had it once  – I'm betting it would make an excellent match with a simple dessert of gorgonzola, dried fruit, and hazelnuts.
Note: Erbaluce is an allowed (majority) grape variety in the following wines, all produced in Piedmont:  Canavese DOC, Colline Novaresi DOC, Coste della Sesia DOC, Erbaluce di Caluso DOCG, Piedmont DOC
The website of Azienda Vitivinicola Giacometto Bruno has a lovely description of their Caluso Passito.