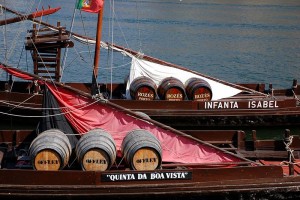 The Methuen Treaty – soon to be known as the Port Wine Treaty – between England and Portugal, signed in 1703, was a military and commercial agreement that arose from the goings-on of the War of Spanish Succession.
The treaty was named in honor of its lead negotiator, John Methuen, a Member of Parliament and England's Ambassador to Portugal at the time.
At the start of the War of Spanish Succession (1701), Portugal had allied with France. France had guaranteed the Portuguese the protection of its navy. However, in 1702 the English navy sailed very closely past the city of Lisbon to and from their way to Cadiz, proving that the French could not really offer the protection they had promised.
The Portuguese, wisely, decided to change sides and began negotiations with England. The Methuen Treaty was the result of those negotiations. The main purpose of the treaty had concerned the ongoing war; the "Grand Alliance" was formalized and the goal of the current war was agreed upon: the new alliance would try to secure the entire Spanish Empire for the Austrian Archduke Charles, who was to become Charles VI of Austria.
The secondary aim of the treaty will be of more interest to wine lovers, as it established trade relations, especially between England and Portugal.
Under the terms of the treaty, English woolen cloth would be admitted in Portugal free of duty. In return, Portuguese wines imported into England would be subject to a third less duty than wines imported from France.  It also stated that Portuguese wines would never As England was at war with France, French wines were already difficult to obtain in England, and because of this treaty, the wines of Portugal – particularly Port, which the British loved – became the popular replacement.
The Treaty, signed on December 27th, 1703, became known to history as the "Port Wine Treaty."
Post authored by Jane A. Nickles, your blog administrator
Are you interested in being a guest blogger or a guest SWEbinar presenter for SWE?  Click here for more information!