"It's like standing naked in a lime thunderstorm."
That's the way I described New Zealand Sauvignon Blanc – one of my favorite styles of wine – for a long time. The phrase relates a myriad of sensations. First of all – the thrill of being naked outside (just admit it). Second, the crackle of lightning – makes the hair on the back of your neck stand up, makes your entire body stand and deliver, and leaves a slight mineral scent in the air. The cold rain lashing your flesh – the whole point of being naked in this scenario is to feel the cold rain on your belly. Finally, the limes – exploding like flavor bombs on impact.
I've used that line for decades and it still rings true. However, the wine industry in New Zealand has matured a bit since the mid-1980s "Sauvignon Blanc shot heard 'round the world," when Cloudy Bay Sauvignon Blanc was first introduced and immediately set the standard for a "new style" of Sauvignon Blanc. While I still encounter –and love – the "lime thunderstorm" style of NZ SB, nowadays you may also encounter a creamy wine with the influence of malo-lactic fermentation, a white Bordeaux-style blend, an oaked version, a wine with lees aging, or a sparkling Sauvignon Blanc as well.
Sauvignon Blanc has actually been planted in New Zealand since 1973, and was beginning to be produced at commercially-relevant levels by 1979. Sauvignon Blanc is grown in all of New Zealand's viticultural regions, and accounts for the following super-statistics:
67% of NZ Vineyard Plantings (by hectare)
72% of NZ Wine Production
86% of NZ Wine Exports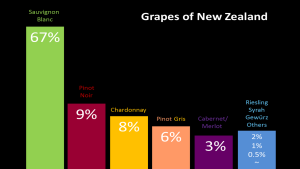 New Zealand Sauvignon Blanc's reputation as a tongue curler is well-documented – and much beloved.  This is not a wine for the wine newbie, the wine wimp, or the vinous faint of heart.
Even the New Zealand Winegrower's Association admits it, and uses the following terms to describe their SB:
Pungently aromatic
Explosive flavors
Bell pepper and gooseberry
Passion fruit, tropical fruit
Fresh cut grass, tomato stalk, grapefruit, and lime…
By the way, one of the lovely things about standing naked outside in a lime thunderstorm is the way that the lively (to say the least) acidity of NZ SB pairs with food. Tastes and flavors in "trendy" cuisine seem to grow bolder and bolder every year, and I've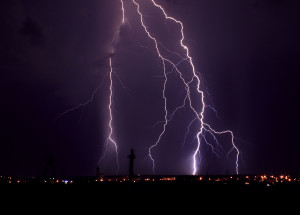 encountered some extremely acidic ceviches, salads, sauces, and marinades for seafood and other proteins. Acidic foods such as these can overwhelm many wines, but the zing of NZ SB holds its own and may even taste better (to some palates) when paired with crisply acidic food – the more snap, crackle, and pop the better.
For my #SauvBlanc Day, I'll be indulging in a lovely Russian Jack Sauvignon Blanc (from Martinborough) – paired with some tangerine-paprika marinated tilapia served on a bed of lemon-asparagus risotto. What are your plans?
Post authored by Jane A. Nickles – SWE's Director of Education and Certification –  jnickles@societyofwineeducators.org
Are you interested in being a guest blogger or a guest SWEbinar presenter for SWE?  Click here for more information!