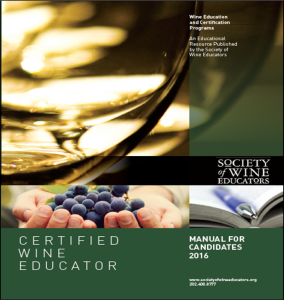 SWE is happy to announce the publication of our latest text on the subject of wine and spirits education, The 2016 CWE Manual for Candidates! 
The 124-page book is unlike anything we have published before and is intended as a guide to help candidates successfully prepare for the Certified Wine Educator (CWE) Exam. The book contains seven chapters as well as several appendixes.  The main topics of the chapters are as follows:
Chapter 1 – Introduction to the CWE Exam: An overview of the various components of the exam, the objectives of the exam, and what to expect on test day.
Chapter 2 – The Multiple-Choice Exam:  Study tips, suggested study focus, test day advice, and an 85-question multiple-choice practice exam.
Chapter 3 – The Essay Exam: Advice on how to study and practice for timed essay questions using the "five-step" method of essay construction, exercises for creating the various parts of an essay outline, multiple "practice" essay questions, advice on writing well, and test day tips. Sample essay outlines and sample (successful) essays.
Chapter 4 – The Varietal/Appellation Identification Exam: Advice on semi-blind tasting, 24 iconic wines (presented in four suggested practice flights of 6 wines each) detailed for typical profile with tasting sheets for you to fill in your own observations, a list of suggested wines for study, benchmarks for wine styles, and test day advice.
Chapter 5 – The Logical Tasting Rationale: Detailed information on how to complete a wine tasting note using SWE's Logical Tasting Rationale, sensory and technical definitions of all of the terms used on the tasting note, sample tasting notes, and test day advice.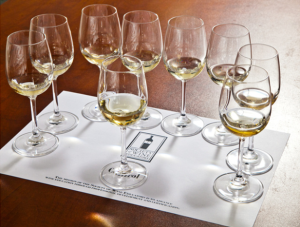 Chapter 6 – The Faults and Imbalances Identification Exam: Background information on the faults and imbalances, instructions on how to use the SWE faults kit (or make your own), a sample tasting exercise, sensory benchmarks for each fault, and test day advice.
Chapter 7 – The Presentation Skills Demonstration: Information on learning objectives, a template for creating presentation outlines/abstracts, a sample presentation outline, and advice on oration, organization, the use of supporting materials, and audience engagement.
The CWE Manual for Candidates is available for purchase now on the SWE Website. The cost is $50 for members/$100 for non-members. If you have any questions or comments, please contact Jane Nickles, our Director of Education and Certification.  jnickles@societyofwineeducators.org
Good luck with your studies!