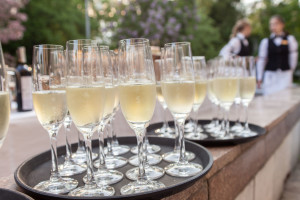 A guest post by Harriet Lembeck, CWE, CSE…
At a recent gallery opening, I was offered a glass of Prosecco. A stroll to the bar showed that they were pouring Cava! Is Prosecco – the lovely, frothy bubbly wine – turning into a generic? 
The reality is that since 2009, there has been a progression of steady changes and classifications in this wine from northeast Italy, starting with the creation of a classic area – where the existing DOC wines became DOCGs – and the balance of the areas remained DOCs. These newly-classified wines began to arrive in the US market in 2011. 
There are now 3 Prosecco appellations; 2 DOCGs are located in the center of the northern hills – Colli Asolani DOCG, which is very small, and Prosecco Conegliano Valdobbiadene DOCG, another small zone. The third appellation – the Prosecco DOC, is located mainly in the province of Treviso. 

At least 90% of Prosecco comes from the larger DOC area, which contains 556 municipalities. While most of Prosecco is produced in the plains, there is a lot of overlap. Many wineries produce under more than one designation, crossing regional boundaries. 
In addition the DOC/DOCGs, there are a few other Prosecco designations you might like to know. One of these is the 265 acre (107 hectare) Cartizze vineyard, located in the western side of the DOCG area of Valdobbiadene. Cartizze, officially a sub-zone of the Prosecco Conegliano Valdobbiadene DOCG is also designated cru. Its ancient soils are a combination of moraines, sandstone and clay, said to give floral notes to the wines. Villa Sandi "'la Rivetta" Brut, imported by Folio Fine Wine Partners, is an elegant example. 
The next area you should know about is Rive, which in local dialect means "steep sites." These sites are located within the in the Prosecco Conegliano Valdobbiadene DOCG, and considered to be almost as prestigious as Cartizze in the scheme of special sites. The grapes must be hand-harvested (which is impossible to do otherwise in those hilly villages), production is limited, and the wines are all classified as Superiore.  
At a recent tasting conducted by Alan Tardi, the US Ambassador of Conegliano Valdobbiadene Prosecco DOCG (a new position created by the Consorzio), I tasted three different Rives of increasing sweetness, showcasing different styles.
Adami's "Col Credas" Brut, from Dalla Terra Imports, was the driest and had a very fine bead.

Masottina's Extra Dry, from Vin Divino, coming from an area where the temperatures are above average, was off-dry and had jasmine notes.

Védova (the widow) from Orvino Imports had the most sweetness; it was labeled "dry" as these designations follow the terminology used in Champagne. Its unique terroir also gives it a touch of salinity.
All of these DOCG Proseccos were closed with corks (crown caps and twist offs may only be used in the DOC appellation) and open with the requisite pop. The pressure categories are similar to those in Champagne. The highest pressure is spumante, followed by a slightly lower pressure known as frizzante. There is an even softer category called tranquillo, which has no pressure and no bubbles. Nino Franco produces a single vineyard example, from Terlato Wines International – a Brut made from 100% Glera grapes. It is so unique that the IGT examiners couldn't say it was typical, and refused the designation!  
Speaking of the Glera grape, the minimum amount is 85%. Other varieties may be Verdiso, Bianchetta, Perera, Glera Lunga, as well as Chardonnay and Pinot Blanc. Glera is actually the ancient name of the Prosecco grape. As was explained to me by Pierluigi Bolla, President of Valdo, from Pasternak Wine Importers, the name "Prosecco" was starting to appear in places like Romania, Brazil, and China. In order to protect the name, the region was named "Prosecco, thus forbidding its use by others. Once that happened, the informing grape needed a new name, and that new name was its old name – Glera.
Click here to visit the website of the Prosecco Consorzio for more information on the designations of Prosecco, click here.
Harriet Lembeck, CWE, CSE is a prominent wine and spirits educator. She is president of the renowned Wine & Spirits Program, and revised and updated the textbook Grossman's Guide to Wines, Beers and Spirits. She was the Director of the Wine Department for The New School University for 18 years. She may be contacted at hlembeck@mindspring.com.
This article was originally published in the article was originally published in Beverage Dynamics Magazine – reprinted with permission!
Are you interested in being a guest blogger or a guest SWEbinar presenter for SWE?  Click here for more information!
Photos of Prosecco bottles via: