Today we have the second part of a three-part series on the 2015 harvest, authored by Mark Rashap, CWE.
In a previous blog post, I outlined the 2015 harvest for the major growing regions of France, and described my method of remembering and mentally archiving vintages around the world by comparing them to the particulars of Bordeaux.  Through this technique, it is easy to draw similarities, such as in 2010 regions all over Europe followed Bordeaux with great phenolic ripeness with maintained acidity.  Likewise, in 2007 there was a lot of variability and many regions differed from the cool rainy conditions of Bordeaux with very hot and arid weather in Piedmont and Tuscany.  Perhaps, you remember and make sense of vintages in an entirely different way, and we would love to hear about it!
As for the chatter around the 2015 vintage for the rest of Europe, it seems like this year will go down as a relatively easy vintage to remember.  Most regions experienced conditions similar to those of Bordeaux, including extreme heat and drought in the summer months, which advanced ripening and harvest 1-2 weeks.  There were rains and a cooling off of temperatures in either late August or early September which saved the grapes from the raisin character and lack of acidity that afflicts very warm vintages, such as 2003.
The following reflects the pertinent info we should file away to remember in the coming  years when these wines are being released.
In Spain, Wines of Rioja reported that harvest was wrapped up officially by October 13th which makes this year the earliest harvest on record.  Alcohols were slightly above average, and the health of the berries and lack of disease and mold in the vineyard are making producers very excited.  Other than a short heat wave in the beginning of July, Ribera del Duero did not experience the extreme heat that Rioja did.  Rainfall was average, and the diurnal shifts in September were remarkable, allowing great phenolic ripeness.
In Galicia, La Voz de Galicia, a local newspaper, reported that 2015 is a year that many wineries were able to make noble rot and late harvest Albariño because of the perfect level of humidity.  There were adequate rains in the Spring and almost no precipitation during the summer which is rare for Galicia.  Quantities are the third largest in recorded history.
In Cataluña, the DO summarizes the same story: harvest 2 weeks early, heat in summer promoted phenolic ripeness, health of the grapes was perfect.
In Portugal, Quinta do Vallado published that the winter was drier than usual, and this continued through the summer.  There was not excessive heat through the summer, but the drought slowed vegetative growth putting the energy into reproduction, the berries.  Harvest was 1-2 weeks early, then Sept 15th saw rains which dried out quickly allowing an extended harvest.  2015 is expected to be a vintage year for Port.
In Piedmont, Pietro Oddero, seventh generation of the Oddero winery in La Morra, described how copious rainfall in the winter and spring was essential in supplying the water table to get through the drought and heat of June and July.  Skins were thicker and yields lower than normal years.   Rains in late August saved the Nebbiolo harvest allowing acidity to be maintained.  Comparisons are being made to the excellent quality of 2010.
In Tuscany, Francesco de Filippis, agronomist, owner of Cosimo Maria Masini, and biodynamics specialist agreed that 2015 has incredible potential because of the rains in September.  Francesco's vineyards typically do better in warmer years because of the moisture retaining organic humus; however, his vineyards were incredibly stressed until the rains invigorated them.  July was hotter than 2003, and he could not remember a drier summer.
In Germany, often vintages do not reflect the rest of Europe, but in 2015 there were a lot of similarities.  The German Wine Institute declared that the grapevines were able to withstand the heat and drought of June and July.  Occasionally, temperatures were breaking the 40°C ceiling, but there were rains in early August that provided long needed relief.  Sugars are on average a lot higher than normal with no need to de-acidify.  Ripeness and quantity for Pinot Noir is exceptional, this might be the year for German reds to make their mark.
The 2015 report will continue with a review of North America in the coming week!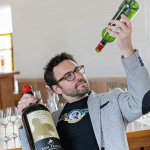 Post authored by Mark Rashap, CWE. Mark has, over the past ten years, been in the wine world in a number of capacities including studying wine management in Buenos Aires, being an assistant winemaker at Nota Bene Cellars in Washington State, founding his own wine brokerage, and working for Texas-based retail giant Spec's as an educator for the staff and public.
In August of 2015, Mark joined the team of the Society of Wine Educators as Marketing Coordinator to foster wine education across the country.
Are you interested in being a guest blogger or a guest SWEbinar presenter for SWE?  Click here for more information!