Today we have a guest post from Mark Rashap, CWE, who tells us about the lesser-known white wines of Puglia!
As I was preparing for SWE's first ever Certification Summit focused on the lesser known regions of Italy, I delved into the great wines of Puglia.  And now, as I'm reflecting on that research, I've realized that my focus was heavily based on red wine production; well, that's what Puglia is famous for, right?  It is indeed the color that is most prominently regarded—with the four DOCGs of the region being from dark skinned grapes (3 for the Riserva versions of Castel del Monte, and one for the sweet Primitivo di Manduria Dolce Naturale).
Many of the 32 DOC/DOCGs on the "heel of the boot" allow for red and rosé production primarily, while only 3 focus on white wine. This is despite the fact that white wines occupies  40% of the total production.  My interest was further piqued when I saw minimum percentages for the foreign Chardonnay written in the law for multiple DOCs.  This contradicts many other regions that might allow Chardonnay in the blend but almost never require it.  I think that this not the only thing that is backwards in Puglia.  All of which makes the production of white wine in Puglia and interesting topic!
Puglia—which is extremely flat, sundrenched, and fertile relative to the other areas of Italy—is evolving from its historic culture of bulk production and co-ops to become an area where there is great opportunity.  Producers from Tuscany and abroad are investing in Puglia and experimenting with their native grapes as well planting the international grape varieties such as Cabernet Sauvignon, Syrah, and Chardonnay.  In the context of white wine, native Puglian grapes include Bombino Bianco, Verdeca, Bianco d'Alessano, Impigno, Francavidda, Pampanuto, Fiano, and Moscato. International grape varieties include Chardonnay (as previously mentioned) as well as Sauvignon Blanc and Pinot Bianco.
To understand the wine production, we must first talk a little geography.  I like to think of Puglia split into 3 broad zones. They are:
The Daunia: Located in the north and encompassing the province of Foggia; characterized by the pre-Apennine mountains
The Murgia: Located in the center of the state surrounding the capital city of Bari; may be further divided into Upper and Lower Murgia
The Salento Peninsula: Located on the Adriatic Coast
Puglia's Valle d'Itria area (which corresponds to one of Puglia's 6 IGPs), located on the Adriatic Coast/Salento Peninsula just south of Murgia, is home to the area's most historic and productive white wines. This valley features clay soils sprinkled with stones. Here, both the Locorotondo DOC and the Martina Franca DOC focus solely on white and sparkling wine based in the tart, vegetal indigenous Verdeca grape variety. Production is quite high. The ancillary grapes of these DOCs are Bianco d'Alessano and Fiano di Puglia. (Note: Fiano di Puglia has been renamed to Minutolo and is not the same grape as Fiano di Avellina).
Just a bit further south, we find the area around the city of Ostuni and the eponymous Ostuni DOC featuring the Impigno grape variety. Impigno is thought to be an offspring of Bombino Bianco—an interesting local white variety occupying the majority of production in the northern areas of Puglia. Bombino, considered to be native to Puglia, has a genetic fingerprint similar to Trebbiano d'Abruzzo.  This is supported by its flavor profile, soft acidity and medium to light body.  The most notable DOCs for Bombino are Castel del Monte Bianco and Gravina and is often blended with Pampanuto and Chardonnay.
When we move to the Salento Peninsula in the far south, surrounded by the Adriatic and Ionian Seas, we find that Chardonnay is a requirement in many of the DOCs.  Most notably, it must make up at least 70% (85% if listed on the label) of the blend of white Salice Salentino, normally know for the dark and spicy Negro Amaro.  Other DOCs in Salento that focus on Chardonnay include: Galatina (55% min), Squinzano (90% if listed on label), Leverano (85% if listed on label), and Coline Joniche Tarantine (no minimum).
Finally, we find a DOC that is solely based on Moscato, Moscato di Trani DOC.  The DOC requires 100% Moscato Bianco, which is the same as the Moscato Bianco from Asti and Muscat Blanc à Petits Grains.  Locals call this Moscato Reale to differentiate from the Moscato Selvatico which is a cross between Muscat de Alexandria and Bombino Bianco and found elsewhere in Puglia.  There are only sweet wines made in this DOC, one Dolce Naturale made from dried grapes and a fortified version.
The whites of Puglia are quite obscure and perhaps justifiably overshadowed by the reds. However, I think that as the overall quality of the wine in Puglia continues to improve we will see interesting things emerge from the white segment.  Verdeca can show similar to Vinho Verde and provide an acidic backbone to a blend, Bombino Bianco is improving in quality and growing in acreage, and Chardonnay will continue to proliferate and find its place in the export market.  Hopefully, someday we can all visit the beautiful landscape of Puglia and taste these grapes with the incredible seafood served on the typical Puglian table.
Sources:
Wine Grapes, Jancis Robinson, Julia Harding and José Vouillamoz, 2012
Vino Italiano, Joseph Bastianich and David Lynch 2005
winesofpuglia.com official trade association site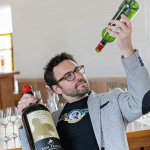 Post authored by Mark Rashap, CWE. Mark has, over the past ten years, been in the wine world in a number of capacities including studying wine management in Buenos Aires, being an assistant winemaker at Nota Bene Cellars in Washington State, founding his own wine brokerage, and working for Texas-based retail giant Spec's as an educator for the staff and public.
In August of 2015, Mark joined the team of the Society of Wine Educators as Marketing Coordinator to foster wine education across the country.
Are you interested in being a guest blogger or a guest SWEbinar presenter for SWE?  Click here for more information!