Today we have a guest post from Mark Rashap, CWE who, fresh from a holiday trip to Japan, gives us a practical guide to sake. Enjoy!
I hope you were able to read, enjoy, and garner some sight from my previous saké post, Tasting Saké from a … Champagne Perspective.  Focusing more on the sensory perception and the metaphorical side of saké, I left the practical and general explanation of saké for this post.  I hope to distill the pertinent information about the uniqueness of production, variety of styles, and different classifications that are important for any beverage professional in the US to know and understand.  For a more comprehensive yet still manageable guide, I would recommend John Gaunter's The Saké Handbook.
Let us first tackle the differences in production from that of wine and beer.  First and foremost, all fruit, during their ripening cycle, naturally produce fermentable sugars (glucose and fructose).  This is obvious because when you taste fruit before fermentation, it will be sweet on the palate.  Grains are made up of starches, or long chain carbohydrates, that must be broken down through a process called saccharification.  In beer production, this is done in the mash by mixing water and grain, mostly barley, at various relatively high temperatures.  Enzymes in the grains are activated to break down the starches, then the sweet liquid is cooled so alcoholic fermentation can occur.  In saké production, rice grain cannot go through saccharification on its own, so a mold called Kōji-Kin (the Kōji is steamed rice plus the Kōji-Kin) is added and, under very controlled circumstances, winds up permeating the entire batch (or Moromi).  Because this saccharification happens at temperatures equivalent to those for alcoholic fermentation, both processes can and must happen simultaneously in the same vessel.
You might read very detailed accounts of how the Kōji is made, such as being cultivated in small slotted boxes and moved around every hour. All this is done so the mold is properly developed and consistently permeates the entire Kōji.  Additionally, a yeast starter, or Moto, occurs separately to ensure a healthy yeast population.  However, don't let all this Japanese pomp and circumstance confuse you; all these processes are done simply to create a batch that has fully functioning saccharification and fermentation at the same time.  Every brewery does things slightly different, but this is the take home point.
Let's review: rice is polished (more on this later).  It is washed, soaked, and steamed.  Part of it goes to the Kōji and part of it goes to the yeast starter.  These two separate batches are incrementally combined along with more water to ensure consistent mixing.  Saccharification and fermentation occur simultaneously for anywhere between 18-32 days.  It is pressed, usually filtered, usually watered back from 20 to 16 percent ABV, usually pasteurized twice, and bottled.  Violá!  When any of those "usuallys" don't occur, there is a different name described below.
Now that you have the general idea of production, let's talk about some variations and classifications.  All saké is classified as either Junmai, which means strictly made from water, yeast, kōji, and rice, or as Honjōzō, which has a small amount of brewer's alcohol added just before pressing.  In my tastings, Junmai saké tends to have more delicate, pure, and subtle flavors, and Honjōzō sakés tend to be a bit fuller and rougher around the edges which might be desired in some situations.
The next uber-important variation of production is the amount of polishing before the brewing takes place.  With the varieties of rice commonly used for premium saké production, there are proteins, fats, and minerals occupying the outer layers of the rice grain that tend to cause off flavors in the finished saké.  Therefore, the outer layers are polished away to reveal the pure starches in the center of the grain.  It is easy to get confused by the percentage that is removed vs. the percentage left behind, so it is a good idea to get in the habit of referring to the polish as a percentage of what is left behind because that's how the Japanese categorize it (called the Seimaibuai).  So, table rice will have a polish leaving 90% rice behind, cheap saké will be 80%, and most general saké is 70%.  Now for the important terms:  Ginjo is 60-50% left behind, and Daiginjo is between 50-35%.  So, the yields can be very low, and for the very best sakés only 35% of the grain remains after polishing!
So, to reinforce our understanding of this, within the Junmai (no distilled alcohol added) category: 70-60% grain remaining is simply called Junmai, 60-50% is Junmai Ginjo, and 50-35% is Junmai Daiginjo.  Within the category of Honjōzō (which is brewed with added distilled alcohol), simple Honjōzō is 70-60%, Ginjo (notice you don't say Honjōzōginjo, it's just Ginjo) is 60-50% polish, and Daiginjo is 50-35%.  I supposed you need to taste the difference between all these different categories for yourself for it to really sink in; do it comparatively just like when you're trying to grasp the difference between Burgundy and Cali Pinot Noir.
Now there are a myriad of other styles, most of which are quite obscure, but there are a number worth detailing:
Nigori (cloudy):  this is saké that is unfiltered or filtered using a rough mesh.  The rice sediment left behind does give a sweeter profile.
Taru Saké: Sake which is aged in cedar barrels and has a woodsy aroma
Namazaké: unpasteurized saké.  This must be kept cold or else a haze and undesirable aromas will form.  It is thought of as fresher and livelier.
Tokubetsu (special):  bottles do not have to indicate what is special, but is usually a higher grade seimaibuai (polish) or special variety of rice.
Genshu: saké to which no water was added to bring down the alcohol to 16%.  These usually have 20% alcohol and have more robust flavors.  Popular as Genshu on the rocks.
It is easy to get wrapped up in all the minor details making understanding saké seem like an unattainable goal.  However, I believe that the information in this post will be a great foundation around which you can start to recognize the most important production terms on the label and make an educated guess as to what will be in the glass.  Of course, just like wine, we need to not be afraid of a different language, taste a wide variety of saké styles, take notes, and retain that information.  I hope that will be fun and rewarding!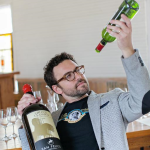 Post authored by Mark Rashap, CWE. Mark has, over the past ten years, been in the wine world in a number of capacities including studying wine management in Buenos Aires, being an assistant winemaker at Nota Bene Cellars in Washington State, founding his own wine brokerage, and working for Texas-based retail giant Spec's as an educator for the staff and public.
In August of 2015, Mark joined the team of the Society of Wine Educators as Marketing Coordinator to foster wine education across the country.
Are you interested in being a guest blogger or a guest SWEbinar presenter for SWE?  Click here for more information!