Today we have a guest post from Harriet Lembeck, CWE, CSE. Harriet tells us the story of how she came to deliver a lecture of Moonshine for this year's 40th Annual SWE Conference, and tells us how it went!
Why Moonshine?
I was recently invited to judge Moonshines for The Fifty Best, an on-line Wine and spirits ratings magazine, whose website gets over 1 million monthly page views. Through the process, I learned that Moonshines are diverse, varied, and so interesting, and I wanted to share this info. Publisher and Founder William Rosenberg was kind enough to give me the contact info for the Gold and Double-Gold medal winning Moonshines, so that I could create this presentation with the best of the examples.
"Moonshine" is a catchall name for un-aged white whiskies, usually distilled from corn. As I learned from going through the 14 that we tasted at the Conference, contrary to that casual definition, some Moonshine happens to be aged, and others aren't even made with corn!
According to David Fleming, Executive Editor of Market Watch, Impact and Shanken News Daily, demand for Moonshine leveled off in 2014 after an initial rise in 2012. While the big spirits brands may be leveling off, there is no drop in enthusiasm from the top players, and also the smaller producers. Many are going upscale, playing to sophisticated tastes, and trying to lose the "hokey" character. Many are craft distillers. Others still package in jars and jugs.
Distilling moonshine is a simple process, requiring only 4 main ingredients: corn, sugar, yeast and water. Barley, rye, or fruits may be used, and even hogfeed is not unheard of. Simple pot stills do the job. Further, there is little emphasis on aging or maturation. Some future Bourbon producers are making Moonshine to tide them over, while waiting for their Bourbon to finish aging.
From George Washington, who built a grist mill in 1770, and returned to Mt. Vernon, VA (where he planted Indian corn and rye) in 1797 after his Presidency; through the Whiskey Rebellion (which occurred after Alexander Hamilton showed Congress that it could use its power to tax [repealed in 1801]); through Prohibition (1920 -1933); and to today – when distilling is now legal, distillers' taxes are collected, and distillation is done in daylight, and not "by the silvery moon" – Moonshine has been part of Americana.
If you want to learn how to distill nowadays, and your grandfather is no longer around to teach you, there is Moonshine University in KY, where a 5-day Distiller Course will set you back $5,000-$6,000. Students say it is definitely worth it. Colin Blake, its Creative Director, warns that any illegitimate distilling flirts with breaking more than 100 state and federal laws. Small wonder that students gladly pay their tuition!
In order to get an official definition of Moonshine, I turned to the 'Standards of Identity for Distilled Spirits and Amendment' (Code of Federal Regulations – Chapter 4: Class and Type Designations), and – surprise – there is no regulation for Moonshine! I saw an 'Amendment' from February 2013, and I thought a definition would be there, but it turned out to be for Caçhaca, a type of rum, and a distinctive product of Brazil.
So there is no legal definition for Moonshine, and I believe that's how everyone wants it! The taxman is very happy that he can collect taxes without being threatened!
For our SWE Moonshine tasting, Bill Lembeck reduced all the proofs by 50% with high-quality bottled water. We ditched the crackers, and served organic, unsalted popcorn. In addition, Bill created the artwork, with a bottle shot superimposed on its home state for each moonshine. Click here to download a pdf of our guided Moonshine tasting, including tasting notes for the 14 different products tasting during: harriet-lembecks-moonshine-tasting-notes-august-2016
One final note: Attendees were loved this session, and were impressed with the uniqueness of the topic, and the range of products tasted!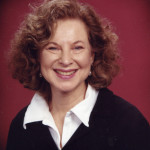 Harriet Lembeck is a CWE (Certified Wine Educator) and a CSE (Certified Spirits Educator – a new designation). She is President of the Wine & Spirits Program, and revised and updated the textbook Grossman's Guide to Wines, Beers and Spirits. She was the Director of the Wine Department for The New School University for 18 years. She can be reached at h.lembeck@ wineandspiritsprogram.com.
Are you interested in being a guest blogger or a guest SWEbinar presenter for SWE?  Click here for more information!