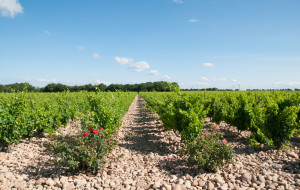 As of just a few days ago (November 25, 2016) the National Institute for Appellations of Origin (INAO) of France announced the promotion of three communes (villages) within the Côtes du Rhône-Villages AOC area to the status of "Côtes du Rhône-Villages with a specific subzone indication" (or, to put it more simply, as new official subzones of the AOC). The new subzones are: Sainte-Cecile, Suze-la-Rousse, and Vaison-la-Romaine. With this change, there are twenty approved subzones of the Côtes du Rhône-Villages AOC. Most of the twenty subzones produce red, white, and rosé wines, although a few are only approved for red and rosé.
The newly designation subzones will be able to market their qualifying wines with the term "Côtes du Rhône-Villages" followed by the name of their commune and the "AOC" designation beginning with the release of the wines of the 2016 vintage.
The last such change in the specific geographical designations allowed for use with the Côtes du Rhône-Villages appellation occurred in 2015, when the former subzone of Cairanne was promoted to a separate AOC designation (announced by the INAO in March of 2015 and approved by the EU in June of 2016 for the 2015 vintage onward). This change lowered the number of Côtes du Rhône-Villages AOC subzones from 18 to 17.
For the record, the twenty subzones of the Côtes du Rhône-Villages AOC (as of December 2016) are as follows:
Chusclan
Gadagne
Laudun
Massif d'Uchaux
Plan de Dieu
Puyméras
Roaix
Rochegude
Rousset-les-Vignes
Sablet
Saint-Gervais
Saint-Maurice
Saint-Pantaléon-les-Vignes
Sainte-Cécile
Séguret
Signargues
Suze-la-Rousse
Vaison-la-Romaine
Valréas
Visan
References/for more information:
http://www.syndicat-cotesdurhone.com/static/upload/5/img_58413fcd625db.pdf
http://www.vitisphere.com/actualite-84055-Trois-nouveaux-Cotes-du-Rhone-Villages-avec-noms-de-communes.htm
Post authored by Jane A. Nickles, CSE, CWE – your blog administrator
Are you interested in being a guest blogger or a guest SWEbinar presenter for SWE?  Click here for more information!