Today we have a guest post and book review brought to us by Harriet Lembeck, CWE, CSE. Read on as Harriet reviews the latest offering from Jancis Robinson!
Book Review: The 24-Hour Wine Expert by Jancis Robinson, MW
I just love what's written on the cover of this book (and I quote), "Red, white, rosé, fizzy, screwcap v cork, wine myths, overpriced wines, matching food and wine, decanting, the tasting ritual" as written by "the most respected wine critic in the world." That's a big promise, and this little book delivers.
But let's get real: this book is not meant for you to become a 24-Hour Wine Expert. As a wine educator, you already are that, and more. This book is meant for the friends and family of wine experts and wine educators so that they can stop rolling their eyes when they dine with us.
The promised simple explanations are just that, and practical, too. For instance, giving an 'A' list and a 'B' list when picking wines from a retail store or a restaurant gives one many options and confidence. There are notes on the reasons for different bottle shapes and sizes, plus a "how-to-read-a-label" section that is very simple and direct. There is a concise list of tasting terms guaranteed to put your group (all of you) on the same page—and it just might help to make your wine conversations more meaningful and (perhaps) end food fights.  The good and bad parts of wine service are explained, as is the actual opening of the bottle.
This tidy little book also contains several top ten lists as well as advice on picking a bottle and common wine myths. A short section on popular grapes eases the way to a discussion on famous wine regions (eased into about 40 succinct categories), and a wrap-up of wine jargon. After a 24-hour study, you will be fearless.
Bibliographical information: Robinson, Jancis. The 24-Hour Wine Expert. New York: Harry N. Abrams, 2016.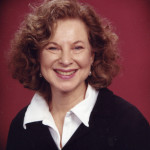 Harriet Lembeck is a CWE (Certified Wine Educator) and a CSE (Certified Spirits Educator – a new designation). She is President of the Wine & Spirits Program, and revised and updated the textbook Grossman's Guide to Wines, Beers and Spirits. She was the Director of the Wine Department for The New School University for 18 years. She can be reached at h.lembeck@ wineandspiritsprogram.com.
Are you interested in being a guest blogger or a guest SWEbinar presenter for SWE?  Click here for more information!