Today we have a guest post from Ted Lui, CSS. Ted tells us about his exploration of the wineries of Cornwall and invites us to ponder the question: Is wine from Cornwall actually Cornish? 
Is the wine produced in Cornwall actually Cornish (in style)?
Before answering this question, I'd like to say something about my interpretation of wine, from the point of view of 21-year-old man. I believe that there must be a big difference between the ideas of well-experienced wine experts and young "wine enthusiast" adults, particularly when it comes to defining the "meaning" of wine.
In this case, I am going to explore the world of wine with you via a journey to a "young" wine production region, and from a young person's perspective.
I first discovered British wine in Cornwall—not the one in New York but in the UK. I knew nothing about British wine before visiting that prior to my visit to some of the vineyards- Camel Valley Vineyard, Polgoon Vineyard, and Knightor Winery.
Although Cornwall is not a traditional winemaking region compared to France and other countries that have produced wine for centuries, it does have a wine history of its own. There is evidence that the origins of British wine dates back to 955 when King Edwy permitted winemaking in Somerset (Harding and Robinson, 2015). Therefore, it would be inaccurate if one claims that British wine has nothing to do with history.
Camel Valley Vineyard in Cornwall has its own history, although it only goes back about 30 years. This is not a long period of time by Old World standards, however, it is a good enough place to begin in my quest to determine if the wine is truly Cornish in style or something just resembling Champagne.
For starters, Champagne grape varieties account for 45% of the grapes used in producing British wine (Johnson and Robison, 2013). I found that most of the sparkling wines produced by Camel Valley were made using Chardonnay and Pinot Noir, while others included some Seyval Blanc and Reichenstenier. The wines were fruity and floral on the nose in addition to the palate, and the flavour intensity was rather medium (-) generally.
Interestingly, despite some French terms revealed on the labels like blanc de blancs and demi-sec, they were British-style for sure in terms of their refreshing and fruity profiles. Champagne lovers may find them too light in terms of body and intensity when the wines are compared to traditional Champagne. In fact, the "young" profiles made the wines sui generis, particularly a new red sparkling using Pinot Noir.
The red sparkling Pinot Noir was definitely a non-Champagne style of wine, and made me realize that the success of British wine, such as that at the International Wine Competition (Abbot, 2010) had to do not with the fact that it could imitate Champagne, but rather that they were producing award-winning wines was probably due to their modification of some production methods, for example, the replacement of grape varieties by local grapes. There will be no place for further development if the aim is to copy Champagne from every perspective except the PDO.
The English wine industry shares the ambition of a world top-five spot sometime in the near future (Harpers Wine & Spirit, 2015). Camel Valley Vineyard absolutely presents a step forwards towards the next success of British or Cornish sparkling.
The limitations of British or Cornish wine are probably going to be attributed to the maritime climate. Gale-force winds and high summer precipitation in 2012 caused a drastic decline in the total crop by two-thirds (Harding and Robinson, 2015). The changing climate has been a crucial factor in determining the quality of wine for many years. The acidity of the wines produced in Cornwall is one of the examples that explain the difficulty of quality control in Cornwall. It is slightly high in general, resulting in a minute imbalance in which the body, the flavour intensity and the finish are good. Still, it has been a stimulating start of the modern British or Cornish winemaking industry.
Time to end up with an answer to the question. I believe the wine made in Cornwall is indeed Cornish, and unique enough to find its own niche without having to imitate Champagne. Cornish wine has proven itself by the use of unusual grapes, sparkling red versions, and unique flavour characteristics. There is always room for the improvement, and perhaps the wine will evolve to find its sweet spot in terms of the flavour intensity and the balance of acidity. With the winemaker of Camel Valley
Bibliography
Abbott, J., 2010. UK sparkling wine producer beats Champagne to win global award. [online] Available at: <http://www.hortweek.com/uk-sparkling-wine-producer-beats-champagne-win-global-award/fresh-produce/article/1028353> [Accessed 20 April 2017].
Harding, J, and Robinson, J., 2015. The Oxford Companion to Wine. New York: Oxford University Press.
Harpers Wine & Spirit, 2015. Profile on Chapel Down: Shaking up the UK wine scene. [online] Available at: <www.Harpers.co.uk> [Accessed 18 April 2017].
Johnson, H. and Robinson, J., 2013. The World Atlas of Wine. London: Mitchell Beazley.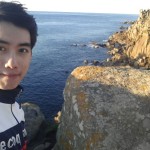 About the author – Ted Lui, CSS: Ted Lui, CSS is a wine enthusiast and an undergraduate studying at the University of Exeter. Ted holds Certified Specialist of Spirits (CSS) certification from the Society of Wine Educators as well as the WSET Level 3 Award in Wines & Spirits. He is also an International Kikisake-shi and Certified Sake Sommelier approved by Sake Service Institute and Sake Sommelier Association respectively. You can find out more about Ted on Instagram @ted_gin, or contact him via email cheuktaklui@yahoo.com.hk
Are you interested in being a guest blogger or a guest SWEbinar presenter for SWE?  Click here for more information!