Today we have a book review from a guest blogger, Linda Coco. In honor of National Rosé Day (coming up soon on the second Saturday in June), Linda brings us a review of a new book on rosé wine by Jennifer Simonetti-Bryan, MW.
Rosé Wine—The Guide to Drinking Pink by Jennifer Simonetti-Bryan, MW.176 pages, published by Sterling Epicure (2017).
Everything's coming up rosés!
Ahhh, spring has sprung and is hopscotching into summer. I love this time of year when all things are made new again, at least here in the northern hemisphere. Mother Nature dons a brand new wardrobe, draping herself in vibrant shades of green accessorized with colorful pops of flowers. I, too, eagerly pack away my winter drabs and delight in sporting sundresses, shorts and sandals.
After a long Montana winter, my palate is also ready for an overhaul. I start craving lighter fare and lighter wines, especially rosés which start debuting in May for May Day, Mother's Day and the Kentucky Derby. While those thoroughbred derby horses compete in The Run for the Roses, I, in my quest to drink pink, Run for the Rosés!
In this season of thinking pink, I am tickled pink to highlight a new book by Jennifer Simonetti-Bryan, a Master of Wine who just released her second publication, ROSÉ WINE: The Guide to Drinking Pink. This book debuts in perfect timing with rosé's renewed popularity. There's a pink revolution happening, and rosé is rising above its reputation for being sweet and seasonal. It's also bounding over gender boundaries. Rosé earned a reputation as being a frilly, feminine wine reserved for females, but men now account for 45% of all rosé consumed in the United States. Shall we call it Brosé?
Simonetti-Bryan expounds upon this rosé revolution in the first chapter then goes on to explain the making of rosé and the tasting of rosé using the FIVE S's: See, Swirl, Sniff, Sip and Savor.  As in her first book, The One Minute Wine Master, Jennifer includes a quiz to help identify styles of rosé that you are likely to enjoy based on a generalized assessment of your taste and scent preferences.
The next chapters are dedicated to the four different rosé styles: BLUSH, CRISP, FRUITY and RICH. Under each style section, Jennifer features wines made in that style accompanied by a photo of the bottle or label. Detailed tasting notes and information about the winery or winemaker are included. Over 70 rosés are highlighted from areas around the globe. From the palest pink to the deepest magenta, you'll delight in seeing the world through rosé colored glasses, all the while vicariously traveling around the world in 80 rosés!
The book concludes with a helpful resource section that contains a food pairing guide, a pronunciation guide and a quick reference wine checklist of all the wines featured, categorized per rosé style.
Punctuated with fun facts, lovely photos and helpful graphs, ROSÉ WINE: A Guide to Drinking Pink is a precise 176-page primer on pink. It's especially suitable for those new to drinking rosé (or to those who heretofore have shunned it!). As a wine educator, I appreciate the approachable and friendly tone in which it is written.
Bravo to Jennifer-Simonetti-Bryan, the passionate promoter of pink! Let's raise our pink drinks and clink our glasses of rosé together in celebratory cheers!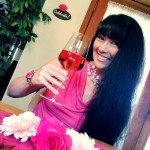 Linda Coco, CSW is a "Roads Scholar" with a passion for road-tripping across the great state of Montana and beyond, learning all she can about the people and places she explores. When not behind the wheel, she enjoys cooking, writing, and hosting wine tastings for her vivacious group of oenophile friends, "The Wining Women of Whitefish". She's a self-proclaimed "edutainer", aiming to entertain while educating, because learning about wine ought to be fun! Share in the fun at her blog, "It's a WINEderful Life", https://lilianacabana.wordpress.com.