Today we have a guest post from Linda Coco, CSW. Linda tells use about five specialists—from plant researchers to extension agents to cold-climate grape experts—she dubs the "Divine Wine Super Heroes" of Montana's growing wine industry. After you read her article, I am sure you will agree!
Montana sits between the 45th and 49th parallel north, just within the temperate latitude for vineyard planting. But because of its short growing season and harsh winter temperatures (snow has been recorded every month of the year), grapes are slow to ripen and are at risk of winter kill. Vineyards are concentrated in Northwest Montana, many hugging the pristine shores of Flathead Lake, the largest freshwater lake west of the Mississippi. Thanks to the lake's moderating influence and the surrounding slopes of the Mission and Salish Mountains, Mother Nature's temperature tantrums are tempered. Other vineyards are nestled in "banana belts" where warmer temperatures and lower elevations provide a more hospitable environment.
While Montana grape growers in the roughly 45 vineyards across the state have each carved out their ideal geographical niches, they have consulted with specialists to help hone their craft and guide their endeavors. I've dubbed these experts the DIVINE VINE SUPER HEROES, the caped grape crusaders who are noted scholars in their respective fields. They wield their collective expertise, granting grape growers the extra edge needed to maintain viable vineyards in cold climates.
PATRICIA McGLYNN, the Montana State University extension agent for Flathead County, is the GRAPE GROWER GURU. Instrumental in forming a grape grower advisory panel which evolved into the Montana Grape and Winery Association, she also wrote and was awarded two grants to establish the Cold Hardy Wine Grape Trials in 2011. Four plots were planted to test 10 wine grape and 2 table grape varieties. The research trial just concluded providing helpful data on the feasibility of establishing a viable grape industry in the state.
ZACH MILLER is an assistant professor and superintendent of the Montana State University's Western Agricultural Research Center located in Corvallis, Montana. He has traveled the globe conducting research in plant and pest ecology. His mission is to serve agricultural producers in his region, guiding them in the latest technology and methods of producing high-value specialty crops. His role as the AMAZING AG ADVOCATE is a bounteous boost to local grape growers.
LARRY ROBERTSON, a soil conservationist for the Natural Resources Conservation Service, is also a grape grower and vineyard owner in Polson, Montana. He has been working closely with Dr. Miller at the Western Ag Research Center on the technical aspects of cold-hardy grape growing. In addition, he provides technical and financial assistance to Montana grape producers. He advocates careful irrigation and water management in successfully growing grapes in the state's challenging terroir. His expertise and incessant practice of his craft deems him the SAGE OF SOIL.
HARLENE HATTERMAN-VALENTI, a professor at North Dakota State University, has conducted research on cold-hardy grape varieties since 2001 when the ND state legislature allowed for commercial wineries. Though her emphasis is on weed science and not plant pathology, she is a veritable GRAPE DISEASE SLAYER for her astute diagnosis and treatment of the most common Montana vineyard ailments: black rot, powdery mildew and downy mildew.
TOM PLOCHER, co-author of the book, Northern Winework: Growing Grapes and Making Wine in Cold Climates, is the GRAPEVINE WHISPERER. A retired staff scientist at the corporate laboratory of Honeywell International, he mentored under the venerable Elmer Swenson, the pioneering cold-hardy grape breeder. Tom now devotes his time to creating cold-hardy wine grapes in Hugo, Minnesota, ravaged by winters even more wretched than Montana's. His Petite Pearl, Crimson Pearl, and Verona grapes were bred to hold dormancy with delayed bud break and are being successfully grown in Montana vineyards.
Both Tom and Larry conducted a pruning workshop during the conference. Larry recently took over a vineyard on Finley Point in Polson, Montana. Believed to be one of the oldest Montana vineyards originally planted with Pinot grapes, Larry is now nurturing Marquette, Verona and Petite Pearl grapes. Tom advised the workshop attendees in how to best prune these cold hardly grape varieties and was bold enough to hand a brown thumb like me, a.k.a. the Serial Plant Killer, a pair of pruning shears!
Patricia, Zach, Larry, Harlene and Tom are the FANTASTIC FIVE of Montana's up-and-coming grape industry. Montana's climate would otherwise be the wrath of grapes if not for the expertise of these grape crusaders. They indeed are a treasure of the Treasure State. Paired with the passion of Montana's vineyard owners and winemakers, the Big Sky Country has the potential for making a big mark in the wine world.
The grape growers and winery owners certainly sing the praises of the FANTASTIC FIVE and I in turn praise the growers' and winery owners' dedication and dogged devotion to their dream of nurturing great grapes destined for great wine. Coming from all walks of life and seasons in life, many of them husband/wife dynamic duos, I was duly impressed with their craft. Because my educational focus is more on the "A.D." side of the industry – ACTUAL DRINKING, I was delighted to macerate in the "B.C." angle of wine – BEFORE CONSUMPTION.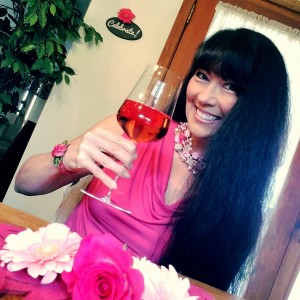 Linda Coco, CSW is a "Roads Scholar" with a passion for road-tripping across the great state of Montana and beyond, learning all she can about the people and places she explores. When not behind the wheel, she enjoys cooking, writing, and hosting wine tastings for her vivacious group of oenophile friends, "The Wining Women of Whitefish". She's a self-proclaimed "edutainer", aiming to entertain while educating, because learning about wine ought to be fun! Share in the fun at her blog, "It's a WINEderful Life".
Stay tuned later this week when Linda sends us an update from the third Annual Conference of the Montana Grape and Wine Association. She'll introduce us to a kilt-and-highland boot wearing winemaker, a wine named Gut Craic ("Good Fun"), and a grape known as Petite Pearl.
Are you interested in being a guest blogger or a guest SWEbinar presenter for SWE?  Click here for more information!