Writers: We are always interested in hosting guest blog posts from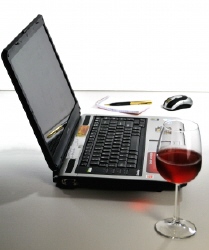 our members and friends who are interested in writing! We do ask that our guest bloggers have some sort of association with the Society of Wine Educators, which may mean one of the following:
You are a member of SWE, or
You hold one of SWE's credentials, including the CSS, CSW, CWE, CSE, or HBSC, or
You are actively pursing one of SWE's credentials, or
You are a scheduled to be, or have been, a speaker at a SWE  Conference or Mini-Conference.
Our readers are interested in just about anything that has to do with the world of adult beverages (even coffee and tea, in addition to wine, beer, and spirits)or working in the wine and spirits industry. We've had great success with guest posts about travel experiences, life on-the-job, and personal experiences along the wine certification route. CWEs and CSEs are also invited to contribute posts concerning educational topics and presentation techniques. Guest posts should ideally be between 500-1,000 words, and we reserve the right to decline or edit any submissions. (Guest authors will be given the opportunity to approve or request revisions to edited versions of their work, and if a consensus cannot be reached, SWE will not publish the work.)
Presenters:  If you hold one of SWE's certifications (CSS, CSW, or CWE) and would like to present a SWEbinar, we would love to host you! Our one requirement regarding subject matter is that your topic be of interest to those people who are studying for one of our certifications – our SWEbinar program is intended to help our candidates with exam preparation. CWEs and CSEs are also invited to discuss educational topics or presentation techniques.
If  you would like to pitch an idea for a guest blog post, or you would like to present a SWEbinar, please contact Jane Nickles, CWE, our Director of Education and Certification, at jnickles@societyofwineeducators.org
.