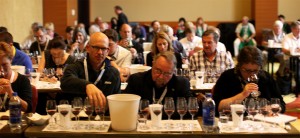 A great time was had by all at the 38th Annual Conference of the Society of Wine Educators, held August 13 – 15, 2014, in Seattle, Washington. With a record attendance of over 475 wine professionals, two sold-out exam previews, a wonderful pre-conference Columbia Winemaker dinner, and the release of SWE's new Wine and Spirits Quiz App, it was a memorable time indeed!
Below you will find some pictures, presentations, and handouts provided by our wonderful speakers – the next best thing to being there!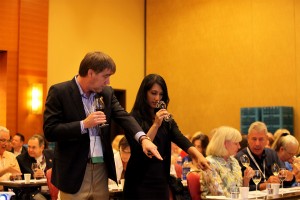 Tim Gaiser's session, offered on Wednesday afternoon, was titled "Tasting Mastery."
Session description: Join Master Sommelier Tim Gaiser in a tasting seminar exploring the best practices taken from Master Sommeliers, Masters of Wine, and other top industry professionals. Tim will present multiple strategies for all the major challenges in tasting, including calibrating wine color in the context of age and grape variety; olfactory and taste memory (including instilling olfactory memories), structural calibration and grape/regional identification. Learn methodology and tools that will take your tasting to the next level.  Click here to download a copy of Tim's Presentation: Tasting Mastery – SWE Conference 2014 – Tim Gaiser
Paul Wagner gave a session entitled "New Gran Selezione Wines from Chianti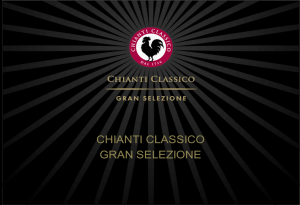 Classico" on Thursday morning.  Session Description:  No one has done more to revolutionize the world of Italian Wine than the Consorzio di Chianti Classico. Beginning with the remarkable Project 2000, they have undertaken a comprehensive re-evaluation of the region, its wines, and its message to the world. The culmination of that effort is the new level of Gran Selezione wines – the very best wines from individual vineyards controlled from budbreak to bottle by the winery. In this session, Paul Wagner will tell use and then show us what all the excitement is about.  If you love Tuscany, or want to fall in love with Tuscany, this session is perfect for you. Click here to download a copy of Paul's Presentation: Chianti Classico Gran Selezione – SWE Conference 2014 – Paul Wagner
Jay Youmans, MW, CWE, dared to ask the question, Is Brunello di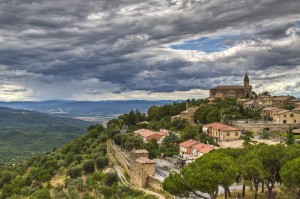 Montalcino Italy's Greatest Wine?  Over the past several decades, Brunello di Montalcino has risen to the top of the list of Italy's outstanding red wines. Often described as dark red in color, rich in thick, silky tannins, and with aromas of plum, cherry, blackberry, licorice, and black olives, Brunello is a favorite of critics and consumers alike. But…can we argue that Brunello is Italy's greatest wine?
Jay presented ten outstanding Brunellos – in all styles from modern to traditional, from tiny family-owned producers and larger wineries, and showing the influence of the various soils of the area, including galestro, iron and clay, schist and sandstone, granite and volcanic. Click here for a copy of Jay's presentation: Is Brunello the Greatest – SWE Conference – Jay Youmans
On Friday morning, Paul Wagner gave us an in-depth look at St. Émilion.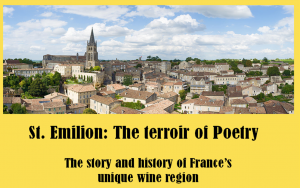 St. Émilion – it is the terroir of bottled poetry! Not only is it a region that produces wines of legendary quality; those very vineyards have been declared a UNESCO World Heritage site. The city of St. Émilion would draw tourists from around the world to its historic architectural treasures even if there were no wine there at all.
However..there is great wine to be had here! The two recent vintages of 2009 and 2010 give a remarkable perspective to one of the world's great wine regions. In this session, Paul Wagner led us on a tour of the romantic village of St. Émilion, showing only Grand Cru Classé wines from these two wonderful vintages. This is a session for those who have always wanted to understand the wines of the right bank, and for those who want to taste some of the greatest Bordeaux of this century. Click here to download Paul's slideshow: St Emilion – SWE Conference 2014 – Paul Wagner
On Friday morning, Fernando Pavon invited us to "Get to Know Chile" and the fabulous wines created there!  This was a unique opportunity to "get to know Chile" and Emiliana Biodynamic wines, complete with a chance to taste and compare wines made using steel, oak barrels and concrete fermenters!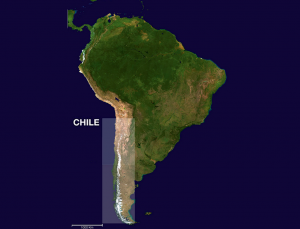 When Spanish explorers arrived in Chile in the 16th century they knew they had found a viticultural Eden. They brought grapevines with them from Europe, and the wine industry was born. Fast forward to today and the Chilean wine industry bursts with talented viticulturists and winemakers who create world-class wines of unique character and personality.
Chile's unique combination of diverse geographical areas, natural barriers to pests and a blissful Mediterranean climate make it the ideal natural choice for eco-friendly, Sustainable / Organic / Biodynamic winegrowing and winemaking. Chile produces a wide variety of wine styles: from crisp Sauvignon Blanc, lush Chardonnay, zippy Riesling and fragrant Viognier to vibrant Pinot Noir, juicy Merlot, spicy Syrah, classic Cabernet Sauvignon, and their very own Carmenère! Explore the many facets of Chilean wine. Click here to download Fernando's slide show: Get to Know Chile – SWE Conference 2014 – Fernando Pavon
On Friday afternoon, Sharron McCarthy, CSW, invited us to Cha-Cha to Chile and Tango on to Argentina!  Session description: Join us as we sway to the Latin rhythms of Chilean and Argentinian wines. South America, unlike North America whose early settlers found Vitis Labrusca growing, depended upon the Spanish and the import of vinifera vines from Europe for their wine industry. Argentina is the most important wine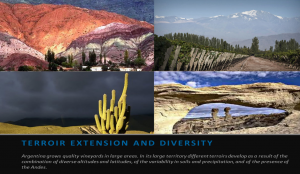 producing country in South America, in fact, it is the fifth (some say fourth) largest producer of wine in the world. However, until 1970, Argentina consumed every drop of wine it produced. Today, consumers all over the world are intrigued and enticed by Argentinian favorites like luscious Torrontés and plush Malbec.
By consensus, Chilean wines are South America's best and rate among some of the finest in the world.. From virtual nonexistence in the American market less than three decades ago, Chile now ranks as the third largest source of wine imports for American consumers, with only Italy and France larger. Chile achieved all this by supplying us not only with friendly, agreeable, user friendly wines but with outstanding world class reds and white that are judged to be among the finest in the world.  Boogie your way through gems like Torrontés, Syrah, Malbec, Cabernet, Carmenère, Chardonnay, Sauvignon Blanc, etc. that offer that Latin excitement on the palate. Additionally, we will discuss the updates on the rules and regulations like "Costas" in Chile and "Reserva" in Argentina. Click here to download Sharron's presentation on Chile and Argentina:  Cha Cha Chile and Tango Argentina – SWE Conferene – Sharron McCarthy
​
Arthur Black, CSS invited us to explore "Everything Agave – Except Tequila!"  When, that is, if, people think of Agave, it's usually in the context of tequila,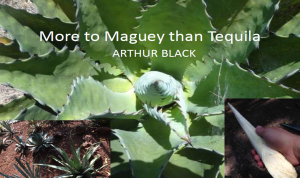 strange memories and regret laden mornings. The Agave, also known as "maguey" or the "century plant", is an amazing succulent plant that is rich in cultural context, lore, history, resource and is capable of producing many beautiful beverages.
There are a considerable number of beverages that employ various agave species depending on locality, climatic conditions and production mores. This seminar will discuss the history of the maguey, it's physiological nature and the production processes employed in the various beverages made with various agave species. The seminar will be supported with a flight of small production mezcals from various species (including the coveted pechuga, a mezcal which has actually been percolated through a chicken) as well as sotol, baconora and perhaps even a Tequila or two! Click here to download a copy of Arthur's presentation: Mezcal – SWE Conference 2014 – Arthur Black
On Thursday afternoon, Bill Whiting, CSW, treated us to some Luscious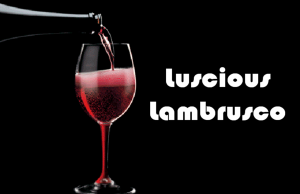 Lambrusco! Session description:  The region of Emilia-Romagna is considered by many to be the heart of Northern Italian food and the gastronomic capital of the world. Known for its rich fatty dishes, there's one thing that these amazing foods have in common…….they all pair best with LAMBRUCSO. It has been called "an instant crowd-pleaser" or "the fun friend you want to take to any party." Lambrusco is the perfect complement to an array of foods from Erbazzone to Zampone. Lambrusco is a luscious, sparkling red wine…….so let's get lost in the depths of its rosy froth.  Click here to download Bill's presentation: Luscious Lambrusco SWE 2014 – Bill Whiting
On Thursday morning, a large group was offered a Palate Tune-Up by Jane Nickles, CSS, CWE.  Malic acid, tartaric acid, TCA, brett…You know the words, but can you recognize them in wine? If you're not sure, perhaps you need a tune-up! This session,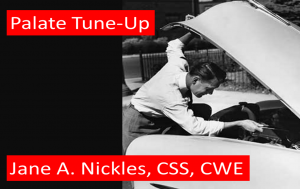 led by SWE's Director of Education, Jane A. Nickles, CWE, gave us a good look at how we actually taste wine, the building blocks of wine flavor (alcohol, acid, tannin, residual sugar), some of the things that can go wrong with wine (TCA, brett, oxidation, ethyl acetate), and some of the aspects of quality wine as well. The highlight of the session (after battling over the validity of the "tongue map" and finding everyone's "recognition threshold" for sugar), was the tasting of a line-up of doctored wines, demonstrating some of the more common flaws, faults, and imbalances in wine – the point being, if you know how to recognize bad wine, you'll never have to drink it again! Click here for a copy of Jane's handout and tasting notes on faulty wines: Palate Tune-Up Tasting Notes – Jane Nickles – SWE Conference 2014
On Friday afternoon, Michael Wangbickler, CWE, presented "The History of California Wine in 6 Glasses."  Session Description: What's the hot new region in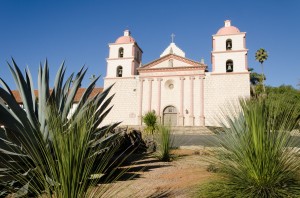 winemaking? Who's doing something really different? If those are your interests, don't come to this session. If you'd like to learn more about the history and taste the wines of some of California's most historic and successful pioneers, then this session is for you. California put the U.S. on the world wine map, and we'll discuss some of the most significant and colorful characters. The wines sampled included Beaulieu Vineyards "Georges de Latour" Private Reserve Cabernet Sauvignon, Robert Mondavi Fumé Blanc, Wente Nth Degree Chardonnay, Korbel Natural Sparkling Wine, and (for the historical significance) Gallo Hearty Burgundy.  Click here to download a copy of Michael's presentation: California in Six Glasses – SWE Conference 2014 – Michael Wangbickler
On Wednesday afternoon, lunch was sponsored by the New Zealand Wine Growers. Along with our buffet lunch, we were treated to a delightful range of New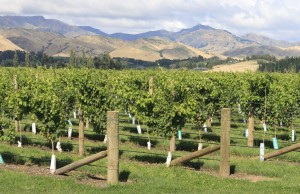 Zealand wines.  By world standards, New Zealand may be a small producer – accounting for less than 1% of total wine volume –  and a new producer, having hit the world stage with the "Sauvignon Blanc shot heard 'round the world" in the 1980's. However, the wines are universally acclaimed for high quality standards and the growth has been phenomenal. During the 1990's there were just 130 registered wineries, and today there are 703 wineries, 90% of which export to international markets.  And, it's good for the earth! Over 94% of New Zealand wineries operate under independently audited sustainability programs. During his presentation, David Strada mentioned that a new resource, the 50-page "Book of New Zealand Wines" would be available to attendees. Click here to download the The Book of New Zealand Wine NZWG
On Thursday afternoon, Linda Lawry, DWS, CWE, took us on a tour of the wine routes of Europe with Thomas Jefferson! Linda told us all about Thomas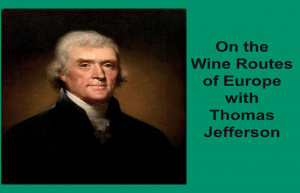 Jefferson: Founding Father, Genius and Wine Connoisseur. Always the curious adventurer, he traveled to the important wine regions of France, Italy and Germany while serving as the United States 'Commissioner to France', from 1784 until the beginning of the French Revolution in 1789. Luckily for us, he kept a diary. Attendees in Linda's class were able to follow his travels, share his observations and taste some of the same wines he did, from producers who are still making wine! Wines included Tattinger Brut "La Française" Champagne, M. Chapoutier Hermitage "Chante Alouette," and Vinhos Barbieto "Thomas Jefferson Special Reserve" Madeira.  For detailed notes on the wines, click here: Wine List – Thomas Jefferson Session – SWE Conference 2014   For a copy of Linda's slide show, click here: Thomas Jefferson – SWE Conference 2014 – Linda Lawry
On Friday afternoon, Hoke Harden, CSS, CWE, and bartender extraordinaire Nathan Gerdes led a lucky group of people through "The Evolution of the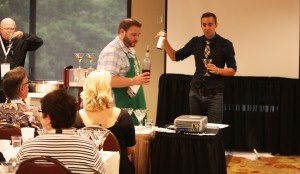 Martini in 8 Glasses."  Attendees were able to explore the history of one of the great iconic cocktails — the Martini — featuring Nathan Gerdes, Bacardi Portfolio Ambassador and Bombay Sapphire Gin's Most Innovative Bartender 2012. Guests experienced the permutations and manifestations of the various and sundry forms the Martini has taken over the years through the sampling of eight Martinis made the proper way—at tableside, by expert mixologists from the United States Bartenders Guild. The cocktails presented included the Martinez, the Rockefeller Martini, the Gibson, and the Vesper – thank goodness the martinis were small!  Click here for a copy of Hoke's handout:  The Evolution of the Martini- SWE 2014 – Handout
Hoke Harden, CSS, CWE, led a group to "Taste & Compare the Great Brandies of France: Cognac, Armagnac, & Calvados." This fascinating, sensorial tour through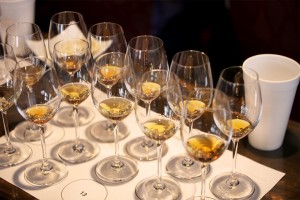 the great regional brandies of France explored the intricacies of terroir, maturation and style through a curated tasting of the multiple terroirs of Cognac, Armagnac, and Calvados. Cognacs sampled included Fins Bois, Petite Champagne, Grand Champagne and Borderies. Calvados AOC, Calvados Pays d'Auge AOC and the elusive Calvados-Domfrontais AOC were sampled side by side, followed by a tasting of Armagnac AOC, Armagnac-Ténarèze AOC, Haut-Armagnac AOC and Bas-Armagnac AOC. Click here for a copy of Hoke's handout:The Great Brandies of France – SWE 2014 – Handout
On Wednesday afternoon, Joel Butler, MW, gave an interesting talk entitled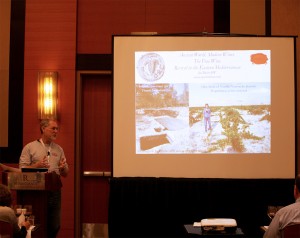 "Ancient World, Modern Wines: The Fine Wine Revival in the Eastern Mediterranean." The "Ancient World" wine-lands are once again coming back into the limelight with unique varieties as well as terroir-driven versions of classic ancient European wines. This session explored a range of modern wines from areas in the eastern Mediterranean that were last famous 2000-3000 years ago. Wines tasted at this fascinating session included examples from Turkey, Georgia, Lebanon, Greece, and Israel. For more information on the ancient world of winemaking, see Joel's Book, "Divine Vintage: Following the Wine Trail from Genesis to the Modern Age." Click here to download Joel's slideshow on:  Joel Butler – Ancient World, Modern Wines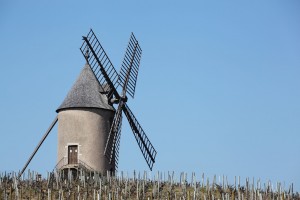 Did you know that the Beaujolais wine-growing region is on the other edge of a fault time located on the eastern border of France's Massif Central? The soils of the region are made up of "crystalline" terrain (both granite and metamorphic rock) and "sedimentary terrain" (alluvial soils and limestone-clay.) You probably know that 30% of all Beaujolais sold is Beaujolais Nouveau, but did you know that Beaujolais only produces AOP wine? All of this information – and more – was included in a pre-conference Master Class on the wines of Beaujolais, led by Joel Butler, MW.  For a copy of Joel's slideshow on Beaujolais, click here:  Joel Butler – Beaujolais Master Class
On Friday morning, Joel Butler, MW treated us to a discourse on Riesling: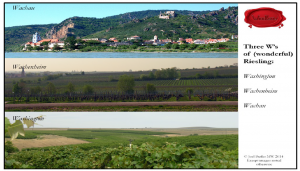 From Washington to Wachenheim and the Wachau! Washington State is the leading producer of fine Riesling in the New World, and one which shares the latitude, climate and technology of the great original Riesling homelands in Germany, Austria, and Alsace. This session explored the themes of flavor, style, and terroir expression among wines from these locales (as well as a few neighbors) to illustrate and showcase Riesling's exciting evolution in the Evergreen State, with a little help from some European friends! Click here to download Joel's handout on: Joel Butler – The three W's of Riesling – SWE Conference 2014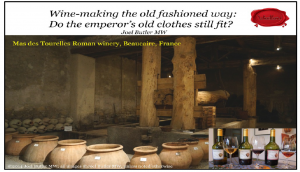 On Thursday morning, Joel Butler, MW gave a session entitled, "Wine Making the Old Fashioned Way: Do the Emperor's Old Clothes Still Fit?" The wine world's current cause celebré is "natural wines," whatever that means! In this session, Joel Butler, MW discussed those wine producers who have decided to produce wines today using ancient production techniques, and/or have abandoned modern technological means to (re)create wines which many will find exciting or archaic, but never dull!  Wines tasted included a fascinating range of modern wines made using traditional and historic techniques, including Schloss Gobelsberg "Tradition" Grüner Veltliner, Kamptal 2011; "Pheasant's Tears" Rkastsiteli Quevri Tibano AOC, Kakheti (Georgia) 2010; and Vodopivic Vitouska Amphora, Friuli, 2006. Collectively, the group decided the wines were good! Click here to download Joel's slideshow on:  Joel Butler – Do the Emperors old clothes still fit – SWE Conference
On Friday morning, James King of the Texas Wine School asked the question, "Can the True Pinot Noir Step Forward?" What is the real Pinot Noir in the 21st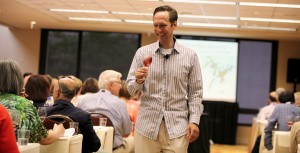 Century? Pinot Noir is among the most hotly debated grapes in the modern wine industry. What exactly makes it so intriguing, and what characteristics make it a "true Pinot Noir?" Most people assume that Burgundy is still the epicenter of quality, but it is still the standard bearer for style? With regions and countries as diverse as Oregon, California, Italy, New Zealand, Chile, Australia and Germany all making their style of Pinot, are we seeing regional styles being produced for very different markets? This class took a good look a look at Pinot Noir in the 21st Century and allowed attendees to judge for themselves just how far this grape has come from its historic roots in Burgundy, to being a modern player on a global field. Click here to download James' slideshow on:  James King – Can the true Pinot Noir please step forward
Friday morning got off to a sweet start with Laura Lee-Chin and Quinn Schara's session on pairing Rhône wines with chocolate entitled, "Finding the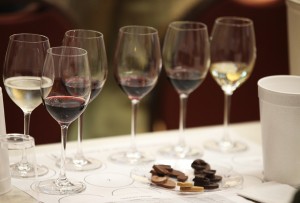 Sweet Spot – Rhône Wines and Chocolate." This session delved into the highly controversial pairing of wine and chocolate, exploring the many elements come into play when balancing wine and chocolate for a delectable pairing. Most experts agree that taste components have a key role. But which particular components – sweetness, saltiness, bitterness, acidity, umami, or others – create that "sweet spot" or balanced pairing we desire? Wines tasted – while looking for taste components commonalities that make for delicious pairings of wine and chocolate – included Depréville Clairette de Die Tradition, Paul Jaboulet Ainé "La Paradou" Beaumes de Venise Rouge 2010, Paul Jaboulet Ainé "Domaine de Terre Ferme" Chateauneuf du Pape 2010, and Cave de Rasteau "Signature" Vin Doux Naturel 2009. Click here for a copy of the slideshow presentation: Laura Lee-Chin and Quinn Schara – SWE Conference 2014 – Finding the Sweet Spot
On Friday morning, Cameron Douglas, New Zealand's first and only Master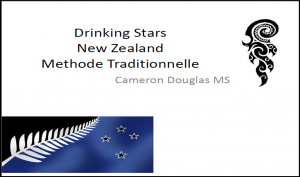 Sommelier, led a session entitled, "Drinking Stars," which, surprisingly, featured the Methode Traditionelle sparkling wines of New Zealand. An enthusiastic group, no doubt familiar with the bottle-fermented sparklers of France, Spain, Italy, and the USA were able to expand their bubbly horizons with a tasting and discussion on the New Zealand expression of this enticing and exciting wine style. Wines tasted included Nautilus Cuvee NV Marlborough, Cloudy Bay Pelorus Rosé NV Marlborough, Osawa NV Hawke's Bay, Daniel Le Brun NV Marlborough, No. 1 Family Estate Marlborough, and Quartz Reef 2009 Central Otago. For a copy of Cameron's slideshow, click here:  Cameron Douglas – SWE Conference 2014 – Drinking Stars NZ
On Friday afternoon, Rick Lopus, CWE presented a fascinating session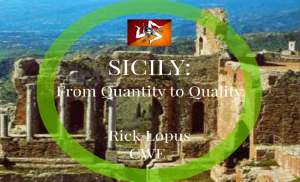 entitled, "Sicily: From Quantity to Quality." The session description read: Other than Marsala (for which the golden era has faded), Sicily's claim to fame for most of modern times has been to produce large quantities of low quality wine—predominantly to be used as 'Vino da Taglio' (cutting wine); but they were the best at it! With a few notable exceptions, it wasn't until the last quarter of the 20th century that a few dedicated souls had the conviction to swim against the tide and slowly convince their peers and the wine world at large that Sicily can indeed compete on the world stage of quality wine. This session included a virtual tour and tasting of some of Sicily's current stars…an indication of the great things to come from this 'continent' in the Mediterranean Sea. Wines included COS "Pithos" Rosso, Vittoria DOC 2012; Planeta "Sito dell'Ulmo" Merlot, Scilia IGT 2009; and De Bartolid Superiore Riserva 10 Anni, Marsala DOC. For a copy of Rick's presentation, click here: Rick Lopus – SWE Conference 2014 – Sicily from Quantity to Quality
On Friday Morning, Amy Hoopes presented a session called, "The Power of One: The Wente Clone." The session discussed the past, present and future of the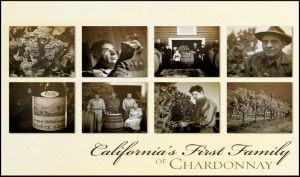 Wente Clone of Chardonnay. No single grape has had a greater influence on the style of New World Chardonnay than the Wente clone(s) of Chardonnay. From only a handful of vines in the early 20th Century to over 100,000 acres in California today, it can be found in many of the country's greatest wines. It could just be the true expression of terroir in America, and it certainly is popular with growers. Wines tasted included the Wente Vineyards "Morning Fog" Chardonnay (Livermore Valley) 2013, Chateau Montelena Chardonnay (Napa Valley)2011, Saintsbury Chardonnay (Los Carneros) 2011, and Kistler Chardonnay (Russian River Valley) 2012. Click here for a copy of:  The Power of One – The Wente Clone – SWE Conference 2014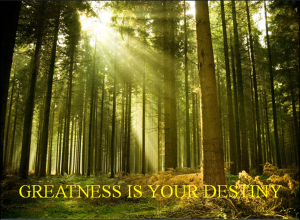 On Friday afternoon, Don Kinnan, CSS, CWE and Nick Poletto DWS, CSS, CSW, went head-to-head, along with Gevrey-Chambertin in and Vosne-Romanée in a duel!  Session Description: Burgundy's reputation as world role model for pinot noir-based wine is unchallenged. The two appellations which vie for the title of "Burgundy's Best Reds" are Gevrey-Chambertin and Vosne-Romaneé. This session will settle the controversy in a true courtroom fashion, presided over by Judge Missi Holle, CSS, CSW. You will be the jury as you weigh the presentation of evidence, taste the wines, and hear the ardent claims of the attorneys representing each side. The verdict will be yours. Will Gevrey, with its Napoleonic endorsement and 9 grands crus, take the title, or will Vosne-Romaneé with its glamour and reputation reign supreme?  Click here for a copy of: Gevrey Chambertin vs Vosne Romanee SWE 2014
​
​