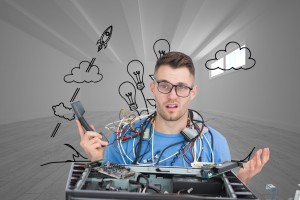 Ah technology…we love it and we hate it!
If you are experiencing difficulty with an Adobe Connect (SWEbinar) session, remember these four things:
I stay very closely connected to my email in the half-hour or so leading up to all of our SWEbinars. (Jane Nickles: 

jnickles@societyofwineeducators.org

). That way, if someone has last-minute trouble connecting, I am available to respond to your email immediately. However, once the session starts, I am not able to access my email until we are finished. So, please email me before the start of a session, and I'll try to help you out – but it is "no fair" being mad at Miss Jane if she doesn't respond to your email during a session (hey, it's happened, and it wounded me deeply).
If you experience any kind of connection issues during a session – the slides aren't moving, or you can't hear, for instance, the best thing to do is to log off, close your internet connection and log back in. Just like turning your TV or your laptop off and back on quickly, this will solve 99% of the problems.
If you click on the link to access a webinar and it takes you to a previous webinar, it is easy to fix: shut down your device (turn it completely off), wait for about 30 seconds, and turn your device back on. It should be fixed!
Always link to an Adobe Connect session from the SWEbinar homepage or another link directly from this blog. Do not try and "cut and paste" links for later use – the sessions are refreshed after each and every SWEbinar and sometimes the link refreshes as well. The link on the SWEbinar homepage and blog announcements are ALWAYS  the latest links, and I test them a few hours before each session, as well as immediately before I log on.
Remember that if you have one (and who doesn't?), you can log into the session with a mobile device. You may need to download an Adobe Connect app before you do so, but they are free and fast to download. A lot of people "bookmark" the SWEbinar homepage on their mobile device as a backup. It also works in case you have a power outage at home, or are "on the road." Now that is serious wine education-dedication!
Of course, I hope you have no problems – and you probably won't – however, this is a "just in case"!!