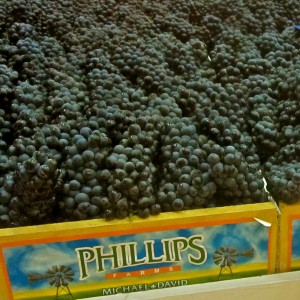 Zinfandel and Malbec, take a seat…the big dog has arrived.  I hold in my hand a glass of Michael-David Vineyards "Earthquake" Petite Sirah.  This wine looks like red crude oil, weighs as much as a linebacker, blasts flavors like a blow torch and leaves some cotton on the roof of your mouth.  Despite the name, there is nothing petite about Petite Sirah. It's not a small version of the grape known as Syrah.  And, for the record, the "i" in "Sirah" isn't a typo – but if you spell it with a "y" that's ok as well.
So, if Petite Sirah is not petite and not syrah, what is it?  The grape is one of those vinous mysteries, solved CSI-style with the miracle of modern DNA testing in the U.C. Davis laboratory of Dr. Carole Meredith.
What we call Petite Sirah, it turns out, is a very old variety born and bred in the 1870's by a French Nurseryman named Dr. Francois Durif.  It seems that the good doctor wanted to create a grape that had the flavor components of Syrah and the resistance to powdery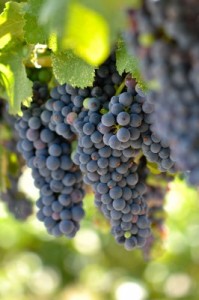 mildew of a grape known as Peloursin. He crossed Peloursin and Syrah and named the resulting grape, like any proud father, after himself.  Durif became a minor success, was planted in quite a few vineyards, and was used as a blending grape in Rhône Reds.  But, alas, Durif never really became a major French variety as it failed to produce high-quality, distinguished wines in the South of France.
Durif migrated to the United  States in the 1890's, where it fared somewhat better.  Durif thrived in the California sun, was easy to grow, and produced a high yield of  four to eight tons per acre in the Sierra Foothills and Central Valley of California.  In those days, Durif was a major player in the red blends of the Golden State.  If we could go back in time to the days of Gallo Hearty Burgundy, we'd be able to detect a bit of the deep, dark red fruit and dusty cinnamon flavors of Petite Sirah in there…maybe even dominating the blend.
However, in the early days of California wine making, many vineyards were field blends – a variety of grapes grown together in one vineyard with little regard to varietal pedigree and the name "Durif" got lost along the way, much like what happened to Carmenère in Chile.  Later, when someone needed a name for the variety, the grape was named "Petite Sirah." We can only assume this was due to its Syrah-like flavor and the small size of the grape – the only possible explanation for the moniker "petite".
Those small grapes grow in big clusters with very thick skins and high tannins.  A good Petite Sirah has a deep red color, a hefty, somewhat "rustic" feel and substantial but ripe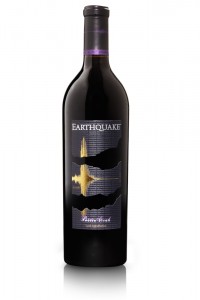 tannins. Walk carefully around this wine…it can pack quite an alcoholic punch, sometimes reaching as high as 15%.  In the bottom of the glass you will find rich fruity aromas including of sweet plum, blackberry, cherry, currant and cassis.  Take a sip and you'll notice the rich fruit flavors…I think this wine defines the term "jammy". Go ahead and take another sip…look for the flavors of black licorice, chocolate, coffee, black pepper, vanilla, and cedar.  This wine can be quite complex…you might also find aromas and flavors of herbs, violets, brown sugar, orange peel, clove, and cinnamon.  It's got a lot going on.
Petite Sirah is still grown in France, although like many a local celebrity, it was never much appreciated in its home town.  Australia has a few vines, as well as Argentina, Chile, Israel, and recently, Washington State. The one region to really take to Petite Sirah is California.  The grape is grown throughout California and does particularly well in the warmer regions of the Golden State such as the Sierra Foothills and Lodi, where, in the words of the back label of Earthquake Petite Sirah, it makes a wine that is "over the top and shattering to the veins!"  I couldn't agree more.