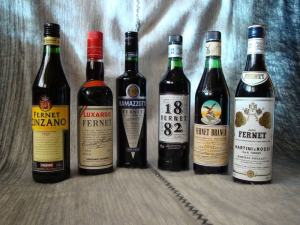 The beverage world abounds with spirit amari (bittered spirits), which may be classified as aperitifs, which are generally served in diluted forms as cocktails to stimulate the appetite, or as digestifs, which are often served in more concentrated forms to enhance digestion after a meal.
These amari contain botanicals with carminative properties intended to lessen gastric discomfort after rich meals. Just ask a bartender, a wine student, or a serious foodie you will hear them tell you its true: they work! Botanicals known for their carminative properties include angelica, aniseed, basil, caraway, cardamom, cinnamon, coriander, cumin, dill, fennel, ginger, hops, nutmeg, parsley, and sage.
One of the most popular Spirit amari is Fernet Branca. Fernet Branca was invented in Milan in 1845 by Bernardino Branca. It soon became famous worldwide and led to the founding of the Fratelli Branca Distillery.
Fernet has recently become quite popular in the United States as both a beverage and a hangover cure, but its popularity long precedes the craft cocktail scene. So popular is it among industry professionals that a shot of Fernet Branca has been called the "bartender's handshake."
In Prohibition-era San Francisco, fernet was legally consumed on the grounds of being "medicinal." San Franciscans still drink it—over 30% of the fernet consumed throughout the entire United States is consumed in San Francisco.
Argentina consumes more fernet than any other nation. The beverage's popularity is reflected in the fact that a leading  Cuarteto (an upbeat, popular dance-hall music genre) song is "Fernet con Cola." 
The secret recipe for Fernet Branca is reportedly known by only one person, Niccolò Branca, the current president of the Fratelli Branca Distillery. It is said that Niccolò personally measures out the flavorings for each production run.

The Branca brand, while definitely one of the better-known, is not the only producer of fernet. Fernet is actually a type of herbal-based bitter that is made by other producers, as well. Many Italian companies, including Luxardo, Cinzano, and Martini & Rossi, produce fernet. Fernet is produced internationally, as well, such as in Mexico, where the popular Fernet-Vallet is made.
Each brand of fernet has its own secret combination of herbs and botanicals. However, a good fernet is likely to include myrrh and saffron, both known for their "disgestivo" and antioxidant properties. Other ingredients rumored to be included are linden, galangal, peppermint oil, sage, bay leaves, gentian root, St. John's wort, rhubarb, chamomile, cardamom, aloe, and bitter orange.
Fernet Branca, as well as other versions of Italian spirit armai, French spirit amer, and various types of vermouth, quinquina, and americano that will be covered in the new 2015 edition of the Certified Specialist of Spirits study guide…to be released in January, 2015!
Post authored by Jane A. Nickles, CSS, CWE – your SWE Blog Administrator: jnickles@societyofwineeducators.org