You can't have a real Manhattan without a Maraschino Cherry. Or a true Rob Roy or an Old-Fashioned. It's a given, a well-stocked bar needs to be stocked with Maraschino Cherries.
But have you ever wondered how they make them?  Just how do they turn those lovely, crimson-red barrels of healthy, fresh-fleshed fruit into those screaming neon balls of red? I hate to be the one to tell you this, but they bleach the cherries in a solution of calcium chloride and sulfur dioxide until they turn yellow, and then they marinate them in a vat of high fructose syrup and Red Dye #4 for over a month, until they turn clown-red.
It wasn't always this way.  Back in the "good old days," Maraschino cherries are a treat brought to us via the Dalamatian Coast of Croatia, where fresh, local marasca cherries were marinated in Maraschino Liqueur, which was distilled from the same type of cherries.  They made a tasty (and alcoholic) treat.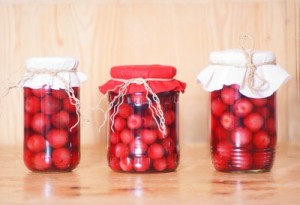 The cherries were a popular treat in America right up until prohibition…when they were no longer legal.  At this point, good old American ingenuity took over and Professor Ernest H. Wiegand of Oregon State University spent six years perfecting the art of making "maraschino" cherries with Oregon's Queen Anne cherries and without the Maraschino Liqueur. The result, many years later, is the following FDA definition of what a Maraschino cherry can be:  "Cherries which have been dyed red, impregnated with sugar and packed in a sugar syrup flavored with oil of bitter almonds or a similar flavor." If you want your cherries brilliant blue or ghastly green, they must be called "cocktail cherries."
If you don't care for bits of sulfur dioxide or Red dye #4 in your craft cocktail, why not try making your own marinated cherries?  The original recipe, according to the Luxardo Maraschino Liqueur website is also the simplest:  take cherries and marinate them in an equal amount of Maraschino Liqueur.  Let them sit in the refrigerator about two weeks and indulge.
I've also been experimenting with a more complicated series of cherry recipes, and have come up with what just might be the ultimate Manhattan cocktail cherry.  Try it yourself, and see if you agree!
Manhattan-Marinated Cocktail Cherries
1 pound fresh cherries – wash, but do not pit or de-stem.  They are so much more interesting that way.
1 cup sugar
½ cup water
½ cup Bourbon
1 cinnamon stick
1 fresh vanilla bean
Method:
Bring the sugar and water to a boil on the stovetop. There's a lot of sugar in there so be careful not to let it burn.  As soon as it begins to boil, turn the heat to low and simmer for 2 minutes.
Break the cinnamon stick into a few pieces.  Slicke the vanilla bean down the center and place both in the bottom of a large glass or metal bowl.  Place the cherries on top.
Mix the Bourbon in with the still-warm sugar syrup and pour over the cherries and all in the bowl.  Use a plastic spatula to stir them up a bit, and then let cool.
When cool, place in a sealed plastic container or glass jar and refrigerate. Try to contain yourself until at least the next day. Great for snacking, Rob Roys, Old Fashioneds, and of course the following recipe for a Manhattan.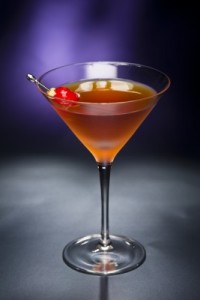 The Manhattan Cocktail
1 ½ ounces Bourbon
¾ ounce sweet vermouth
A dash of bitters
A maraschino cherry (see above, if you know what's good.)
Method:
Fill a mixing glass one-half full of ice.
Add the Bourbon and vermouth.
Using a metal tin, seal your mixing glass and shake for 15 to 20 seconds.
Strain into a cocktail glass. Give it a dash of bitters and garnish with a Maraschino cherry. Enjoy!
Manhattan recipe from SWE's Certified Specialist of Spirits Study Guide
The Luxardo Maraschino Website: http://www.luxardo.it/liqueurs/maraschino.htm