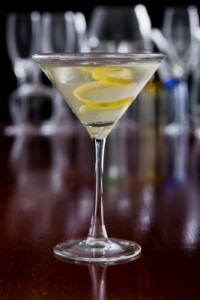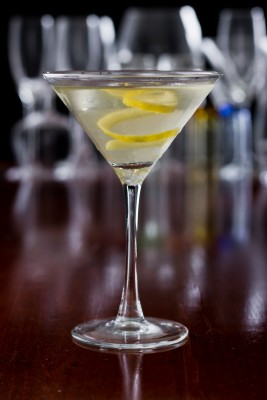 From the book Casino Royale (Chapter 7), by Ian Fleming:
"A dry martini," (Bond) said. "One.  In a deep champagne goblet."
"Oui, monsieur."
"Just a moment. Three measures of Gordon's, one of vodka, half a measure of Kina Lillet. Shake it very well until it's ice-cold, then add a large thin slice of lemon peel. Got it?"
"Certainly, monsieur." The barman seemed pleased with the idea.
"Gosh, that's certainly a drink," said Leiter.
Bond laughed. "When I'm…er…concentrating," he explained, "I never have more than one drink before dinner. But I do like that one to be large and very strong and very cold and very well-made. I hate small portions of anything, particularly when they taste bad. This drink's my own invention. I'm going to patent it when I can think of a good name."
A few chapters later, Bond names the drink the Vesper Martini, in honor of Vesper Lynd, a Special Agent at M-16, who of course turns into a love interest, at least until it is revealed that she is a double agent.
While James Bond, double-agents, and strong cocktails might seem to be the key points of this story, as a true student of spirits, I am even more intrigued by the mention of Kina Lillet…so I decided to do a bit of detective work myself.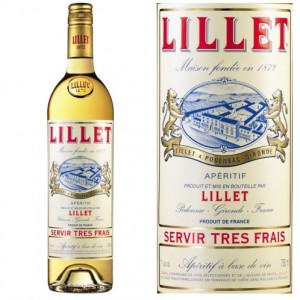 Lillet is a French aperitif that has been produced since 1872 in the town of Podensac, France, just south of Bordeaux. Lillet is based on Bordeaux wine that has been both aromatized (flavored with herbs) and fortified (strengthened with distilled spirits).  Lillet is made with the typical grape varieties of the region: Sauvignon Blanc, Semillon and Muscadelle for the Blanc; Merlot and Cabernet Sauvignon for the Rouge and Rosé.
Lillet is approximately 85% wine, sweetened and fortified with various citrus liqueurs, flavored with orange peel, and aged in French oak barrels. Lillet also includes Cinchona bark from Peru, the "secret ingredient" that contains quinine, as is used in tonic water, thus making Lillet a "cousin" of Vermouth and technically an aperitif known as a quinquina.  Lillet actually contains very little quinine, and no other botanical flavorings besides citrus fruit, making it one of the mildest quinquinas in terms of both botanicals and flavor. Other brands of quinquina include Dubonnet, Cocchi Americano, and St. Raphaël.
The original Lillet, once known as Kina Lillet, was re-formulated in 1986 to make it a bit less bitter and a bit less sweet, is now known as "Lillet Blanc." Lillet Blanc is a light, refreshing, fruity drink that is crisp, sweet, and somewhat floral. Lillet Blanc is popular as an aperitif in France, served chilled or on ice with a garnish of lemon, lime or orange.
Maison du Lillet now produces four versions of its product, including Lillet Blanc. Lillet Rouge, released in 1962, might remind you of the sweet, fruity red wine flavors of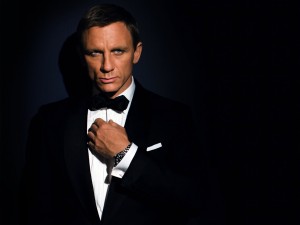 Lambrusco.  Lillet Rosé, released in 2012, has a grapefruit-edged bitterness and is the sweetest of the four products. Reserve Jean De Lillet 2009, vintage-dated and based on Sauternes, is the newest (and most expensive) product, released in 2013.
Aspiring mixologists who want to make an authentic Vesper Martini may want to use Cocchi Americano instead of Lillet Blanc in the recipe, as purists insist that Cocchi Americano is closer in taste and flavor to the original Kina Lillet, being stronger in quinine and therefore more bitter than today's version of Lillet Blanc.  After all, you wouldn't want to disappoint Mr. Bond.
Maison du Lillet – http://www.lillet.com/