At our October meeting, I asked the members of SWE's Board of Directors if they could each write up a brief "introduction" to themselves in order to allow us – friends and members of SWE – to get to know each of them.  I received quite a number of generous responses, so as the first in our new series of "Meet the Board" – I would like to introduce you to our new Educational Liasion – Gary Spadafore, CWE, CSS.  I've known Gary quite a while, and am therefore not at all surprised that his bio is all about "Wine and Motorcycles." Enjoy the read!
Dreaming of Motorcycles and Wine – An Odd Combination
by Gary Spadafore CSS, CWE 
Besides my family, the two passions in my life are wine and motorcycles (not at the same time of course). My passion for motorcycles goes back even further than my passion for wine, despite the fact that one of my earliest childhood memories involved wine.
As a very young child I remember going to a farmers' market in Detroit with my Italian grandfather to buy Zinfandel grapes. I could never understand why the finished product tasted so nasty when so much sugar was added during the winemaking process – (understanding the principles of fermentation came much later.   After that first impression, wine really wasn't much on my radar at all – untill I "accidently" got into the hospitality industry after college when I moved from Michigan to Arizona in 1972 with the intention of becoming a high school teacher (and motorcycle rider).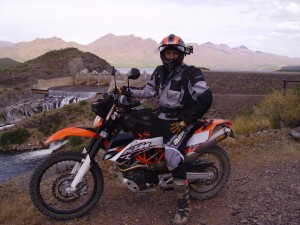 While literally starving substitute teaching, I took a job in the hospitality industry as a bouncer. One thing led to another and I ended up working for Alliance Beverage Distributing Company, the largest wholesaler of wine and spirits in Arizona (30+ years ago). Over the years I've had every position possible, most relating to fine wine. Just over a decade ago, I proposed creating a position called Director of Education and had the perfect candidate in mind…….myself. I combined my teaching experience, restaurant and hotel career, wine sales/management and my CWE credential to offer a strong list of attributes for the position.
I now have a dream job that looks like I'd been planning for it my entire career. If I had a dollar for everyone who has told me they wanted my job, I wouldn't have to work at my dream job.
And what about motorcycles? While attending Northern Michigan University in the upper peninsula of Michigan, I met a bunch of guys that all had motorcycles. I managed to finagle one myself in my second year of college. We arranged our classes so we could ride in the woods surrounding the campus every day. In the harsh winter of northern Michigan we would drink beer (Spanada on occasion) and talk about places you could ride year round.
So of course after graduation I took my teaching certificate and moved to Arizona. I am now the proud owner of the best three motorcycles in the world! For the desert I ride a KTM 300XC, for the great twisty roads in the southwest, I have a BMW K1300S. And for my newest form of motorcycling called adventure riding I have a KTM 690 Enduro R. If those numbers and letters sound strange and weird, you know how most folks feel when wine geeks start waxing on about wine.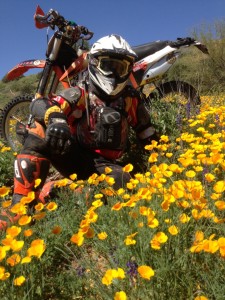 Most folks reading this will understand the passion involved regarding wine, but maybe not motorcycles. Yet some of the same emotions are stirred with motorcycles. A rich history, innovative ideas turned into reality, taking raw materials from the earth and transforming into something unique and different. NOt to mention the very hard-to-describe emotion of the freedom experienced whether dodging cacti and rocks in the desert, or carving a perfect turn on a mountain switchback road.
Suffice it to say that I love life. A dream job, three dream motorcycles and a dream family. I look forward to my new role with SWE as Education Liaison and welcome comments, concerns and recommendations.
Click here for more details  and contact information for the SWE Board of Directors.