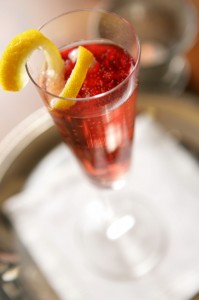 If you are looking for a festive cocktail to serve this holiday season, you can't do much better than a Kir Royale.  The recipe is simple:  put one tablespoon of Crème de Cassis in the bottom of a flute, top up with Champagne and, if desired, garnish with a lemon twist. As you can probably imagine, there are dozens of variations on the classic recipe, and you can find versions of the Kir that include cranberries, frozen raspberries, Prosecco, and Chambord, among other things.
The Kir originated in the region of Burgundy. It is named after a local priest, Canon Félix Kir.  Canon Kir was a war hero of the French Resistance, and is remembered for helping 5,000 prisoners of war escape from the Nazis during World War II.  During the war, he was eventually captured by the Nazis, seriously wounded, and condemned to death; but despite it all, he managed to survive the war.
In 1945, Canon Kir was made a knight of the Légion d'honneur and, soon after, was elected the Mayor of the town of Dijon.  He remained the mayor of Dijon until his death in 1968.
Mayor Kir, like many people in Burgundy, enjoyed the local custom of combining two local products – a wine that we would call Bourgogne-Aligoté, and the locally produced liqueur known as Crème de Cassis de Dijon – into a refreshing aperitif.    The resulting drink was known as a blanc-cassis. Mayor Kir was a big fan of the beverage and was often seen in public drinking a blanc-cassis.
Mayor Kir, as you might imagine, was very popular in his community and very keen to support local products as well.  Thus, he lent his name to the drink mixing Bourgogne-Aligoté and Crème de Cassis de Dijon and soon people all over Burgundy were enjoying a Kir before dinner.
The combination of local flavors became so popular that it spread all over France, with several regional variations along the way.  The legend says that once the idea of the drink reached Paris, café society mixed their cassis with Champagne, and the Kir Royale was born.
À votre santé! 
Note:  It's important to note that while Crème de Cassis is a generic product and made in many locations, "Crème de Cassis de Dijon" is a product specifically of Burgundy, made using "Noir de Bourgogne" black currants.
Click here to return to the SWE Website.